Is almond butter OK on keto?
Almond butter and keto go together like ham and cheese!  Almonds are a 'staple' protein and fat.  And no added carbs!  As glowing as this is, beware!  People on a keto diet should steer clear of almond butters that have added sugars.  You've heard it before.  We'll repeat it again:  Read labels!
Nut butter options are plentiful! If you're on keto, you need to know which is best for you. Including nut butters is wholesome. Staying in ketosis is critical!  Whether you are doing keto to lose weight or improve health, understanding almond butter, peanut butter, and cashew butter is vital. While all are delicious, their nutrition varies. And choosing the better nut butter for you is easy.
Here's the breakdown of nutritional data for almond butter, peanut butter, and cashew butter.  Choose wisely!
The Butter Breakdown
Almond Butter 1 TBSP
Among the three most popular nut butters, almond butter contains 50% more monosaturated fat and 25% less saturated fat than peanut butter. A quarter-cup serving of almonds contains 7.6 grams of protein. This is more than a large egg! An egg has 6 grams of protein. You will also find plenty of fiber in almond butter.
Grams of Carbs 3 g
Grams of Net Carbs
Protein 3.4 g
Fiber 1.6 g
Fat 9 grams, sat 0.7 g, poly 2.2 g, mono 5 g
Sugar alcohols
Peanut Butter 1 TBSP
By far the most widely consumed nut butter, a 1-ounce serving of peanut butter contains 2.5 grams of fiber, 7 grams of protein, and plenty of calcium, copper, iron, magnesium, niacin, folate, and zinc.
Grams of Carbs 6 g
Grams of Net Carbs
Protein 8 g
Fiber 1.9g
Fat 16 g, sat 3.3 g, poly 4.4 g, mono 8 g
Sugar alcohols
Cashew Butter 1 TBSP
At 5.6 grams of protein per serving, cashew butter is lower in protein than peanut butter, but it is richer in other nutrients. All the fat in cashew butter is heart-healthy unsaturated fat. This is excellent news for anyone who enjoys the smooth, creamy taste as an alternative to peanut butter or conventional butter. Cashew butter has less sugar than peanut butter. Frequently, it contains less additives.
Grams of Carbs 4.4 g
Grams of Net Carbs
Protein 2.8 g
Fiber 0.3 g
Fat 8 g, sat 1.6 g, poly 1.3 g, mono 4.7 g
Sugar alcohols
Almond Butter Keto Recipes
Now for the good stuff!  Good as in few ingredients, fast prep, and scrumptious taste!  Oh.  And these almond butter keto recipes are filling too!
Homemade Almond Butter
To roast the almonds, spread them on a baking sheet in an even, single layer. Bake at 350 degrees Fahrenheit, mixing every few minutes to ensure an even roast. Allow almonds to cool, then transfer to a food processor. Run the food processor until the butter forms and reaches the desired consistency.  Easy, right?
The safest way to store nut butters is in the refrigerator. Oil may form on top of your homemade nut butter. This is fine! However, you don't want the oil to go rancid. Keeping your homemade butter cool is key to longevity.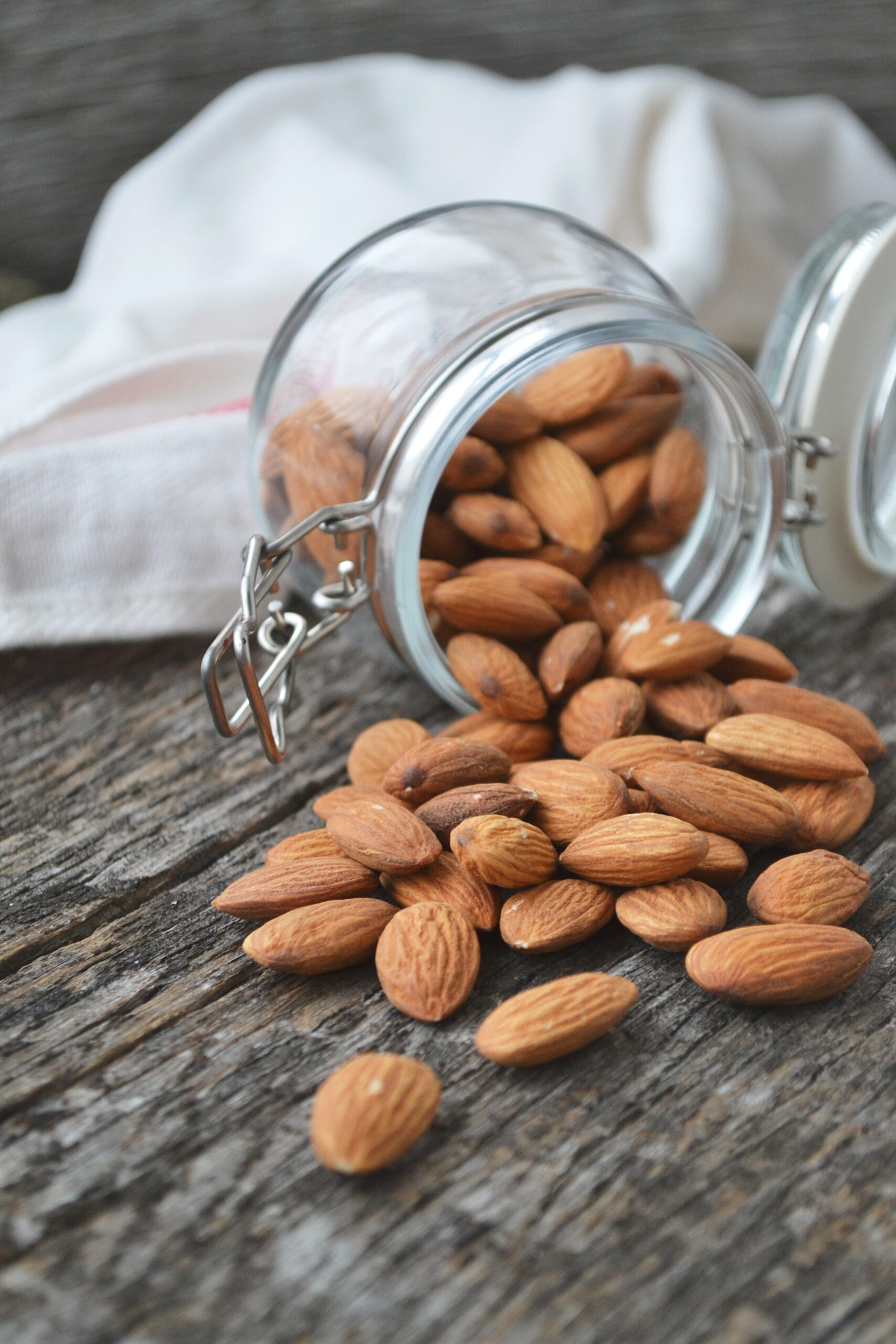 Fat Bombs
½ Cup Almond Butter 120g
8 Ounces Cream Cheese 227g
2 Tbsp Granular Swerve Sugar
½ Cup Sugar Free Chocolate Chips 42g
Blend room temperature almond butter, cream cheese and Swerve together in a mixing bowl. Beat until light and fluffy.  More details are on this part of our site.
Almond Butter Fudge
3/4 cup almond butter
1 1/2 cups low carb chocolate chips
Line an 8 x 4 inch loaf pan with parchment paper.
Melt almond butter and chocolate in a double boiler on the stove over medium heat.
Stir constantly with a spatula until the mixture is completely smooth and evenly mixed.
Pour chocolate mixture into lined pan. Use spatula to smooth out the chocolate and spread across the pan.
Place pan in freezer for an hour or until fudge is set.
Once fudge is set, let it soften at room temperature.  Cut with a sharp knife in 1-inch squares.
Store fudge in airtight container.
Keto Almond Butter Cups
1/4 cup almond butter
1 1/2 Tbsp coconut flour
2 Tbsp coconut oil
1 Tbsp sweetener of choice
1/4 cup chocolate of choice
In a bowl, stir together the almond butter, coconut flour, and  sweetener until well combined. Set aside.
In a microwave-safe bowl, melt the chocolate and coconut oil together until smooth.
Spoon chocolate into the bottom of 12 small parchment cups or 6 standard size ones.
Swirl the chocolate around so that it completely covers the bottom and partially up the sides.
Press teaspoon size balls of the almond butter mixture into the centers of the chocolate cups. Cover with remaining chocolate and place in the freezer until solid. Serve.
Cookies, Pancakes – oh, my!
Almond Butter Cookies
1 cup almond butter
2/3 cup granulated sweetener of choice
1 large egg
Preheat the oven to 180C/350F. Prepare a Silpat cookie sheet or line a large baking tray with parchment paper.
In a large mixing bowl, combine all your ingredients until completely mixed. If using chocolate chips, fold through at the end.
Form 12 balls of cookie dough and place on the lined tray/cookie sheet. Place balls of dough 2 inches apart.
Press down on each ball into a cookie shape.
Bake for 10-12 minutes, or until just golden on the edges.
Remove from the oven and let cool completely on the cookie sheet.
Almond Butter Pumpkin Cookies
3/4 cup creamy almond butter
1/2 cup pumpkin puree (not pumpkin pie filling)
1/3 cup coconut sugar + 3 tablespoons divided
1/2 teaspoon pumpkin pie spice
1 tsp baking soda
1/2 tsp ground cinnamon
1/4 tsp sea salt skip if using salted almond butter
1 egg
Preheat your oven to 350℉ and line 2 large baking sheets with parchment paper or a silicone baking mat.
Combine the almond butter, pumpkin puree, 1/3 cup coconut sugar, egg, pumpkin pie spice and baking soda in a medium bowl. Stir until all ingredients are incorporated.
Using a heaping tablespoon or cookie scoop, portion out the batter onto the prepared baking sheet, making sure to leave room in between the cookies.In a small bowl, combine the cinnamon and 3 tablespoons coconut sugar.
Sprinkle cinnamon sugar mixture over the tops of the cookies.
Bake in two separate batches for 15 minutes each.
Remove the cookies from the oven and let them cool completely on the baking sheet.
Once cooled, store in an air-tight container in the fridge for up to 5 days.
Almond Butter Pancakes
1 cup super fine almond flour, or hazelnut flour
2 Tbsp tapioca flour
3 scoops hemp protein powder, or 3 Tbsp protein powder of choice
¼ tsp baking soda
¼ tsp sea salt
1/2 tsp ground cinnamon
½ cup unsweetened unsalted creamy almond butter, room temperature
2/3 cup unsweetened almond milk
2 large eggs
Add all of the ingredients for the pancakes to a blender and blend until smooth. (Note: The batter can turn out thick if your almond butter is very thick. Add more almond milk to the batter as needed).
Heat a large non-stick skillet to medium-low and add enough coconut oil (or olive oil) to generously coat the surface. Once skillet is completely hot, measure out 1/4 cup of batter and pour onto the hot surface.
Cook until the edges of the pancake appear as though they are firming up (bubbles likely won't rise to the top), then flip and continue cooking until the pancakes are cooked through, about 3 to 5 minutes per side (These take longer to cook than regular pancakes!!)
Repeat for remaining batter.  You can cook 3 to 4 pancakes at a time.
Celery and Almond Butter
This needs NO explanation!  Simply spread almond butter on celery.  Crunch and enjoy!
Final Thoughts on Almond Butter + Keto
Although almond butter scores higher on a keto diet, peanut butter and cashew butter are close in nutrition. Remember: nut butters are always more beneficial when compared to real butter or oil. In addition, nut butters are a great way to enjoy your daily fat when following a ketogenic diet!
Thrifty Tip: Purchase in BULK!