In search of almond butter fat bombs? Your search is over! This Keto Chocolate Covered Almond Butter Cheesecake Bites recipe is our favorite keto dessert. HANDS DOWN. We used to make them a couple of times a week but now when we make them up we do a double or triple batch of them and store them in the freezer. If you like peanut butter or cheesecake these keto fat bombs are going to be on your menu too.
Yum! Who saved room for dessert? The keto diet might have limited your dessert choices, but that doesn't mean you can't enjoy a delicious treat every now and then. Our cheesecake bites combine the sweetness of cream cheese with the nutty taste of almond butter, with a rich dollop of chocolate on top. It's like baking a chocolate-covered cheesecake, but with only a fraction of the effort. Make a batch of cheesecake bites, throw them in the fridge, and you've got dessert for the next week!
Looking for another cheesecake recipe? Try these Keto Pumpkin Cheesecake Bites! Make a bunch and pop them in your freezer. I love how they melt in your mouth.
These little balls of deliciousness do well in the freezer, so you can make dozens of them at once and stock up for house parties and get-togethers. They're a must-try for anyone who loves chocolate, cheesecake or almond butter. They're 100% keto-friendly, so you can share them with friends who are on the keto diet as well as your gluten-free friends. And if you thought cheesecake bites were difficult to make, think again! You'll only need three ingredients to make these delectable little fat bombs, plus some melted chocolate to bring out the sweetness. Place these cheesecake bombs on a platter in the fridge, and we guarantee that they won't last long.
Other Almond Butter Fat Bombs
What Type of Almond Butter Should You Use?
There are so many brands of almond butter out there and I've tried a bunch of them. My favorite is Justin's. You can get it at pretty much any supermarket but I get mine from Amazon as a subscription. I go through so much of it, that it makes sense to save money where I can.
Some people like to make their own almond butter. I'm just too lazy and don't want to wait to whip up a batch of almond butter fat bombs. If you are someone who wants to make your own this is a pretty good recipe for homemade almond butter. You'll have to let me know how it comes out.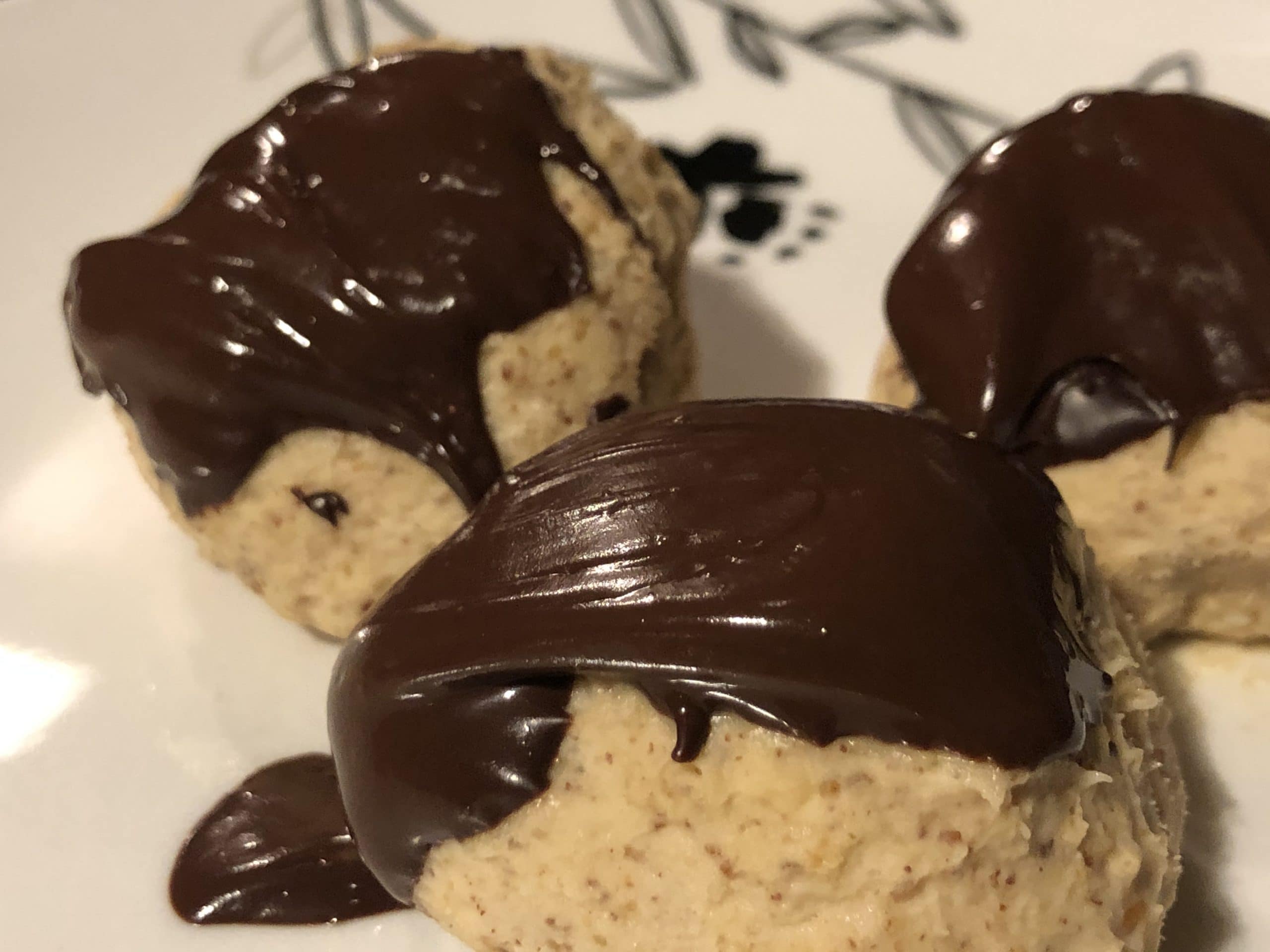 Notes
We make up a double or triple batch and store them in the freezer.
Nutrition
Calories:
163.6
kcal
|
Carbohydrates:
9.7
g
|
Protein:
3.3
g
|
Fat:
14.5
g
|
Saturated Fat:
5.6
g
|
Cholesterol:
20.8
mg
|
Sodium:
61.4
mg
|
Potassium:
104
mg
|
Fiber:
1.6
g
|
Sugar:
1.1
g
|
Vitamin A:
253.8
IU
|
Calcium:
54.7
mg
|
Iron:
0.8
mg