Who loves pumpkin pie? I do! And this simple Keto Pumpkin Cheesecake Bites dessert delivers! Instead of missing out on Thanksgiving pumpkin pie, try this keto pumpkin pie keto recipe variation!
I love pumpkin pie. It's one of those desserts that is talked about at our table EVERY YEAR. Does it stand the "no plate test" so you can eat it with your hands? Or is it runny and needs a fork? Yeah, we like it that much. My favorite kind is when you eat it with your hands. Just pick it up by the crust and dive in! BUT… with keto, we all know that crust can ruin our keto lifestyle pretty fast. This recipe reminds me of my pie, without the crust. It's a mild cheesecake. My favorite way to eat it is straight out of the freezer. It ends up being almost like icecream… and as it melts in my mouth it tastes just like pumpkin pie.
No one should have to skip on pie when you want it. These keto pumpkin cheesecake bites will make you forget about that traditional pumpkin pie because they are absolutely delightful! They are easy to prepare in muffin form and take only a few ingredients and time to bake. One of the best parts is you can make a large batch and place in the freezer for later. They can be defrosted in just minutes. Perfect to have on hand for a quick treat at night, or a surprise snack served with coffee when friends come over. No matter whether you choose to make keto pumpkin cheesecake bites part of your holiday meal, or simply to enjoy whenever you want, they will be a hit with everyone.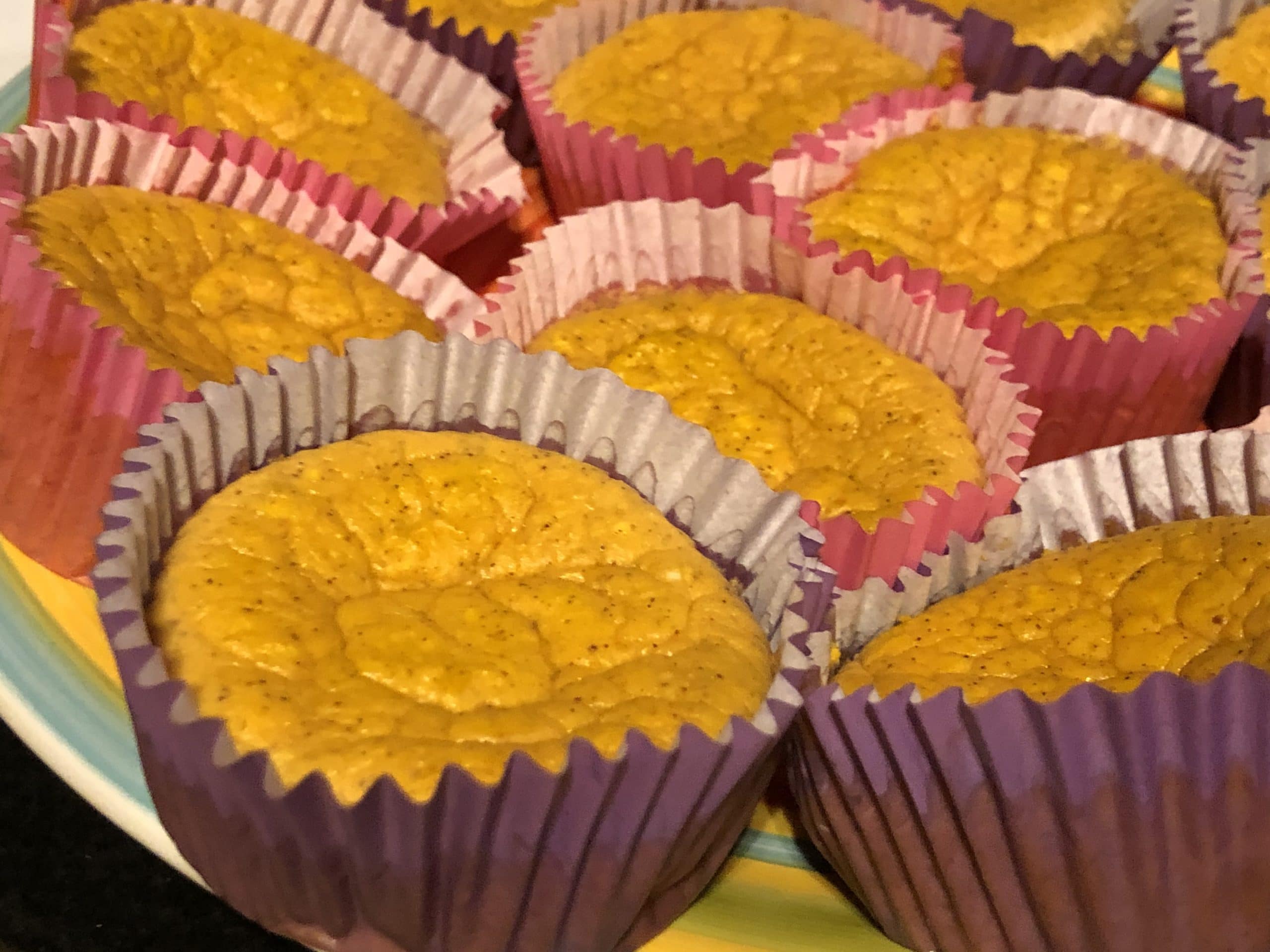 Video
Nutrition
Calories:
101.5
kcal
|
Carbohydrates:
3.1
g
|
Protein:
2.7
g
|
Fat:
9
g
|
Saturated Fat:
4.9
g
|
Cholesterol:
57
mg
|
Sodium:
88.9
mg
|
Potassium:
86.2
mg
|
Fiber:
0.7
g
|
Sugar:
1.5
g
|
Vitamin A:
3539.7
IU
|
Vitamin C:
0.9
mg
|
Calcium:
36
mg
|
Iron:
0.6
mg