THIS RECIPE IS OUR FAVORITE! I love that I can eat my fill of this meal and not gain weight from it. The creaminess is so rich you feel like you are eating out at an Italian restaurant.
Who says that you can't enjoy pasta-inspired dishes while on the keto diet? Let's face it: most of the flavor comes from the sauce, not the pasta itself. And with a little creativity, you'll be back to enjoying your favorite chicken alfredo in no time. We specifically designed this recipe to capture the creaminess and savoriness of a plate of chicken alfredo, with a few extra ingredients to give it a kick of flavor. Skip the expensive Italian restaurant and enjoy a delicious meal at home with this recipe that will blow your mind, despite its simplicity.
This recipe has everything but the noodles. It starts off with chicken that's seasoned with fresh herbs, then cooked in a pan. The sauce is made from rich heavy cream with capers added for taste. If you've never had a caper before, it's like an intensely salty, savory explosion of flavor in your mouth. Pour the sauce over the freshly cooked chicken and you've got a delicious home cooked meal! It's perfect for date nights, family dinners, potlucks, social events with friends, and even enjoying by yourself once in a while.  We expect it will be one of your favorite meals too!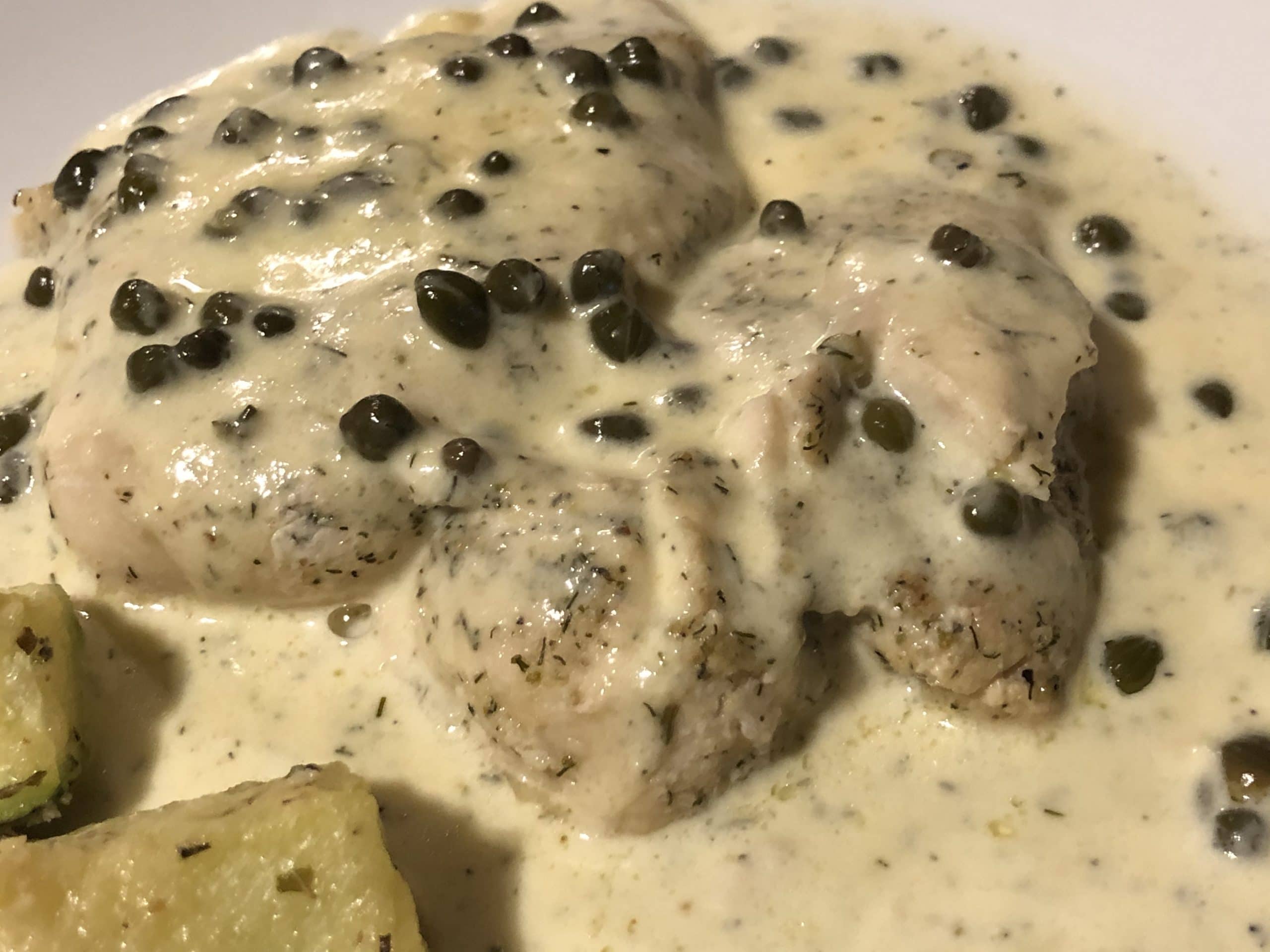 Nutrition
Calories:
498.1
kcal
|
Carbohydrates:
5.3
g
|
Protein:
34.8
g
|
Fat:
37.6
g
|
Saturated Fat:
21.8
g
|
Cholesterol:
220.1
mg
|
Sodium:
1455.8
mg
|
Potassium:
644.7
mg
|
Fiber:
0.6
g
|
Sugar:
1
g
|
Vitamin A:
1384.8
IU
|
Vitamin C:
2.9
mg
|
Calcium:
90.1
mg
|
Iron:
0.8
mg