Have you ever tried the IKEA Swedish meatballs? This keto Swedish meatball crockpot recipe is even better than the real thing in my opinion. And the best part is they are keto Swedish meatballs AND they are made in the crockpot to make it easy! The secret is in the sauce (of course).
To be honest, I didn't set out to make these because of IKEA. I wanted to make these because of my mom. This was one of my favorite meals as a kid. I ate so many of these with mashed potatoes as a kid I thought I would explode. And it had been years since I had them because of the low-fat diets, mom stopped making them and I moved away (sadness). I grew up in the stick of Maine so never even went to an IKEA until a few years back when my husband started raving about the IKEA Swedish meatballs that I had to try. While good, they weren't as good as mom's (maybe I'm a bit biased) and the search began.
I found this Keto Swedish Meatballs recipe from My Keto Kitchen and it looked so yummy I had to give it a try and I was pleased with the results! It seemed so familiar to how my mom would make them with a cast-iron pan. But, I don't own cast iron. My sister and mother both love them but I just never got the hang of cooking with cast iron and HATED things getting stuck on. I'm a Gotham girl. My absolute favorite frying pans are the Gotham Steel collection and my backup is these T-fal pans. I like things easy and cleaning stuck-on food off pans isn't fun.  Just my opinion…
How to Cook Keto Swedish Meatballs
The recipe I found used a cast iron pan on the stovetop and immediately served which makes this recipe a quick go-to! But I LOVE a good keto crockpot meal. I work from home and enjoy the yummy smells of dinner cooking. Plus, putting these in a crockpot really enhanced the flavor as the meat soaked up the Swedish meatball sauce.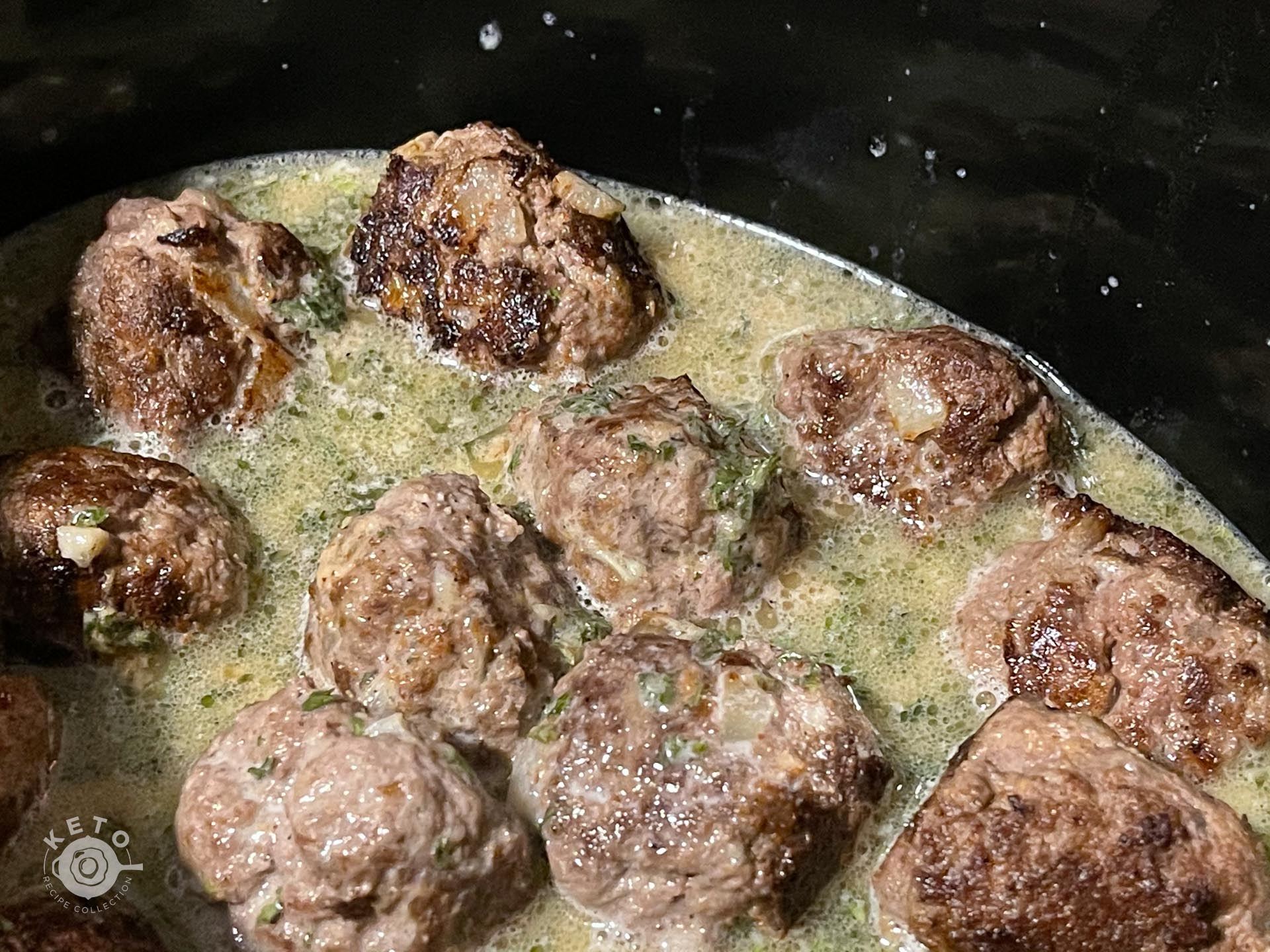 The Swedish meatball sauce didn't quite cover the meatballs in the crockpot so I turned them over halfway through the cooking time. Make sure to be gentle turning them so they don't break apart. But if they do, it will still be perfect! There will be bits of the mixture in the sauce which adds to it.
Are Swedish Meatballs Keto Friendly?
I am not sure if the non copycat IKEA Swedish meatball recipe is ketogenic or not. I'd have to think not since most meatballs have some type of bread or flour in them and they don't limit the amount of onion used in the mixture. But this recipe is definitely keto! Per serving there are only 6 grams of carbs (5 net carbs)!
Other Keto Crockpot Recipes
Keto Mongolian Beef Crockpot Recipe – Have a craving for Chinese food? Look no further! This will curb that for you and the whole family will beg for more!
What other recipes have you tried for keto that you can pop in the crockpot? I've just started diving into that option so stay tuned to build this list out more! Some items on my radar are crack chicken, tacos, and chili. God, I love keto!
What to serve with Swedish Meatballs That is Keto
There are a lot of options that go great with these meatballs. The keto meatball sauce goes with so many options! Some of my favorites are:
zoodles (zucchini noodles)
cauliflower rice
broccoli
keto bread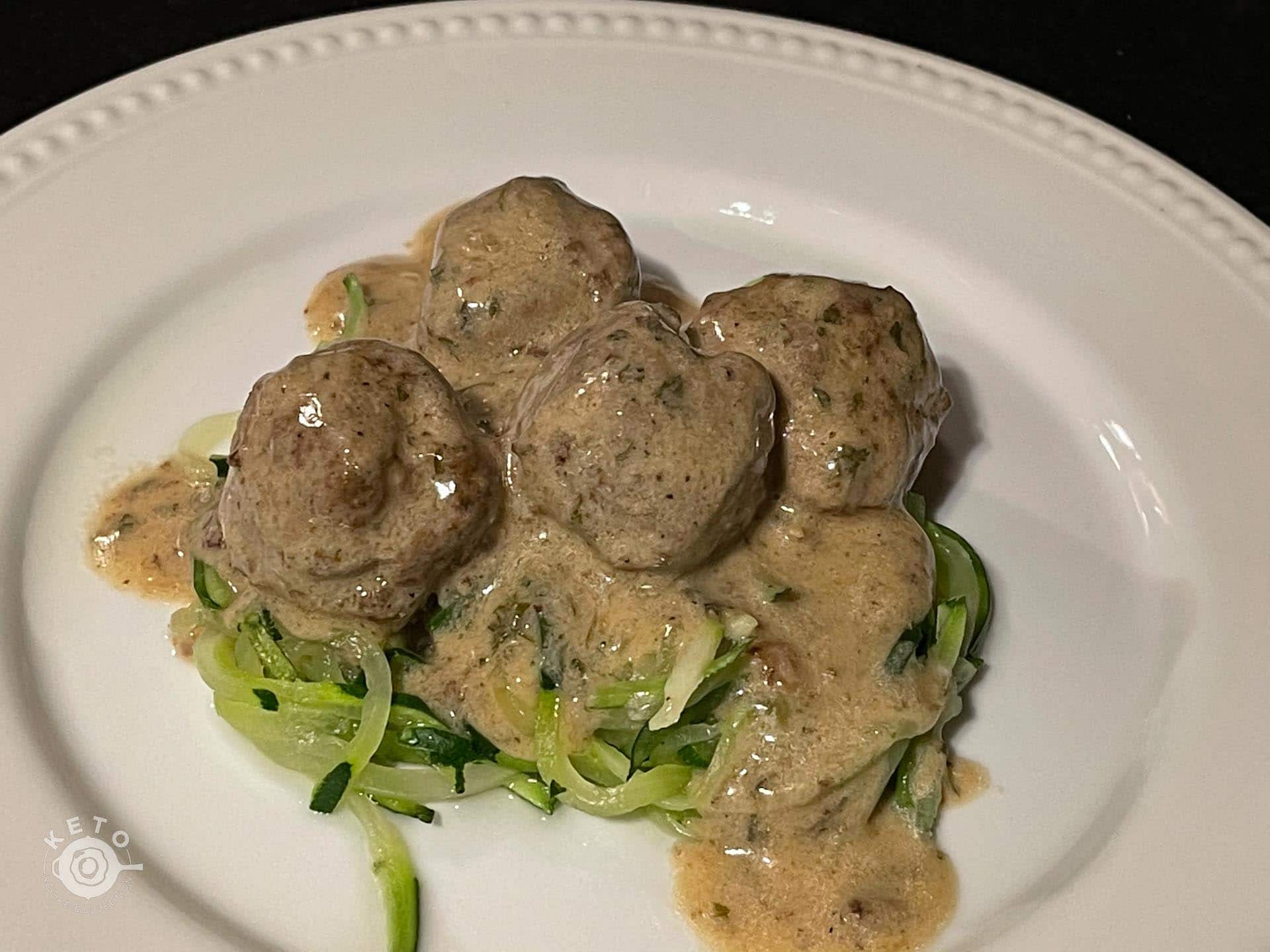 Can You Freeze Swedish Meatballs?
You can definitely make up extra meatballs and freeze them. Make sure to cool them completely before freezing. And you could freeze the Swedish meatball sauce but the consistency may change some. I recommend just freezing the meatballs and making up the sauce fresh.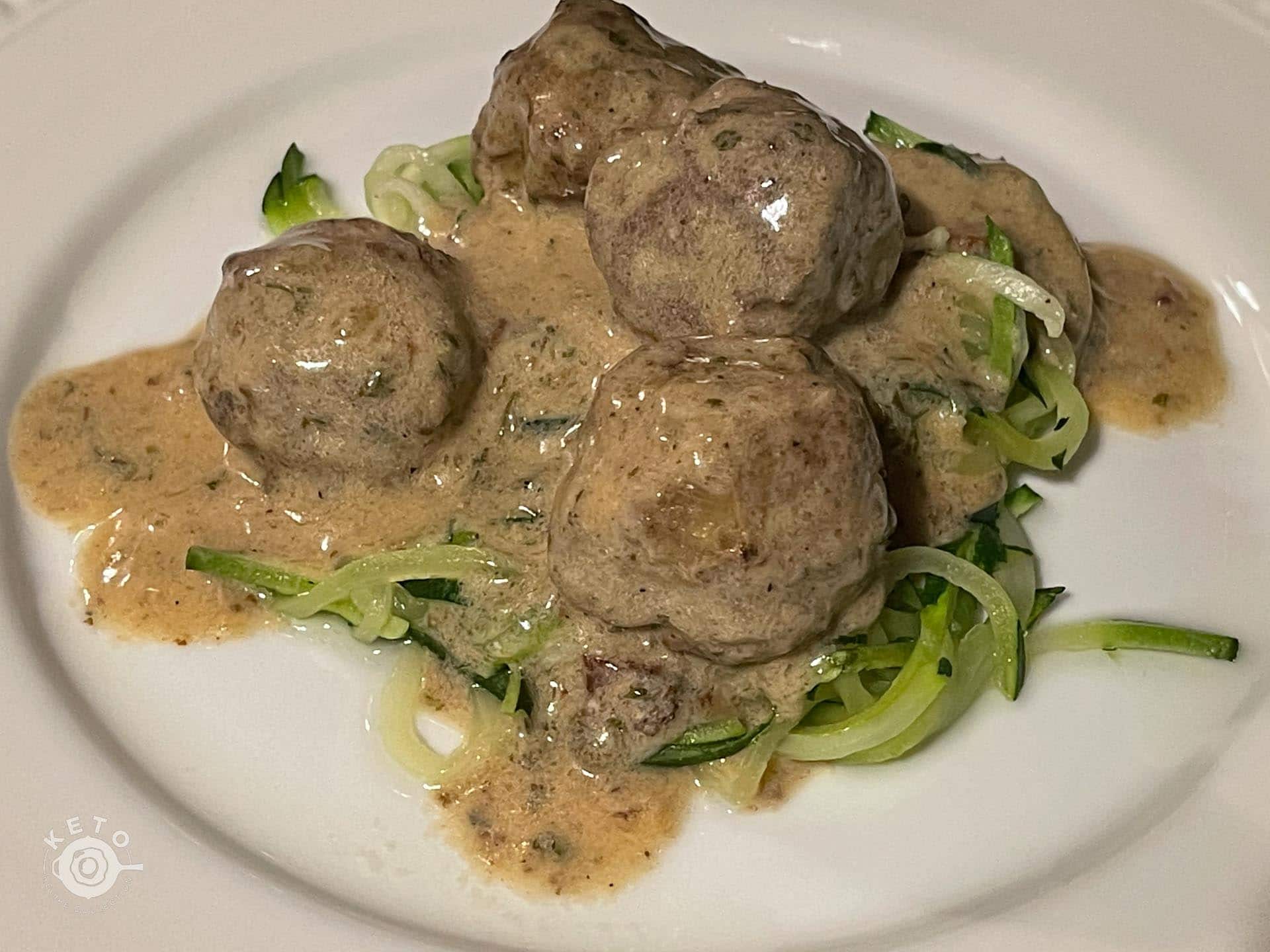 Video
Nutrition
Calories:
558
kcal
|
Carbohydrates:
6
g
|
Protein:
25
g
|
Fat:
49
g
|
Saturated Fat:
19
g
|
Trans Fat:
2
g
|
Cholesterol:
175
mg
|
Sodium:
1128
mg
|
Potassium:
505
mg
|
Fiber:
1
g
|
Sugar:
2
g
|
Vitamin A:
680
IU
|
Vitamin C:
3
mg
|
Calcium:
80
mg
|
Iron:
3
mg