We've tried a lot of keto stuffed chicken breast recipes in the past few months and have a list of favorites. This one has quickly made it to the top! The cayenne pepper really adds a nice kick to it and baking in a dish traps all the juices in the pan, marinating the chicken. Every bit of this keto chicken idea is juicy and bursting with flavor. You will want to hit the bookmark button for this Spicy Mozarella Stuff Back Wrapped Chicken Breast!
Who doesn't love mozzarella cheese? Most of us associate mozzarella with pizza and mozzarella sticks, but as you're about to find out, it's also a delicious filling for our bacon-wrapped chicken breasts. This dish is cooked in a pan that allows the chicken to simmer in its own juices, infusing the meat with a rich, savory marinade. This chicken is stuffed with mozzarella, then wrapped in a piece of bacon and cooked in the oven until it's juicy and crisp. You might find yourself pacing in front of the oven, waiting for the chicken to finish cooking so you can dig in already!
The keto diet can feel limiting at times, but just because you're trying to improve your health doesn't mean you have to sacrifice flavor. This meat-based dish will please even the pickiest of eaters, making it a great option for parties and family dinner nights. Or you could just cook a portion for yourself! The cayenne pepper, ground black pepper and garlic powder give this dish a spicy kick that'll grab your attention and make you hungry for more. Like hot wings, there's something addictive about spicy food–but unlike hot wings, this dish is 100% keto-friendly!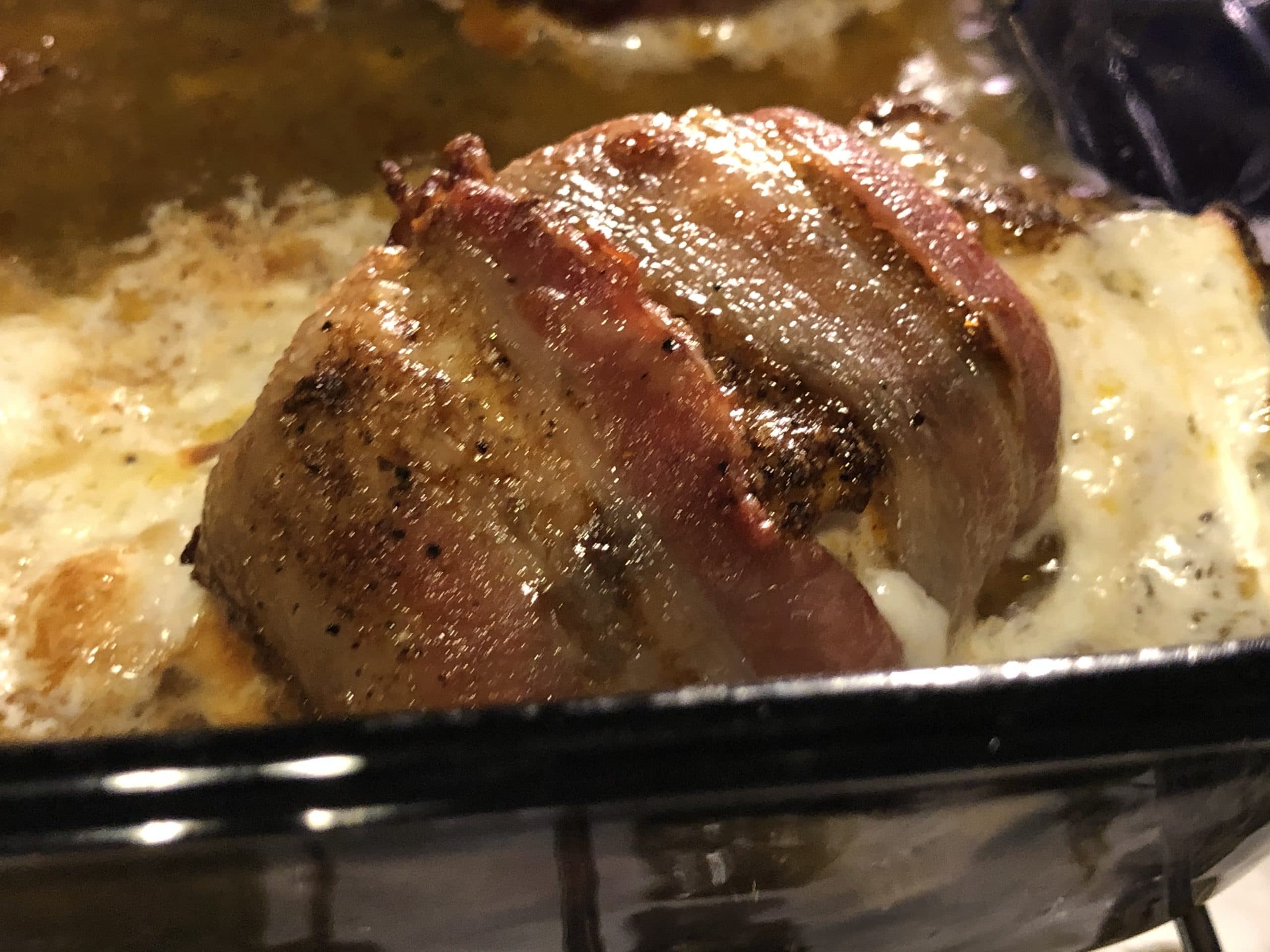 Nutrition
Calories:
1083.1
kcal
|
Carbohydrates:
4.1
g
|
Protein:
62.4
g
|
Fat:
89.7
g
|
Saturated Fat:
32.6
g
|
Cholesterol:
245.5
mg
|
Sodium:
741.8
mg
|
Potassium:
921.3
mg
|
Fiber:
0.7
g
|
Sugar:
0.9
g
|
Vitamin A:
1004.9
IU
|
Vitamin C:
7
mg
|
Calcium:
331.9
mg
|
Iron:
1.3
mg