Our Thoughts on KBosh Keto Crusts
One of the hardest things about switching to the keto diet is giving up bread but it doesn't have to be with KBosh Pizza Crusts!  When we first started keto, giving up the carbs didn't seem particularly difficult–we can live without white bread and hot dog buns, right? But over time, we started craving them. Not so much for the carbs but for the ease of use and for the fillings. The fillings is where all the good stuff is!
When you're on the keto diet, foods high in carbohydrates are off-limits. This includes bread, toast, dinner rolls, tortillas, pizza crusts, pie crusts, and much more. You can say goodbye to pizzas, quesadillas, wraps, pies, calzones, sandwiches, and anything else with a bread or flour base. Suddenly, your keto diet looks a lot more restrictive. But trust me, it gets better! You find recipes (like the ones on our website) that help you make delicious foods without the carbs. We've never eaten as good as we do on keto!
Adding KBosh crusts to the menu really allowed us to enjoy all our favorite foods again without compromising our new keto lifestyle. The crusts are made from healthy, natural ingredients like cauliflower, zucchini, and spinach. Honestly, we actually prefer these to the traditional flour-based wraps and pie crusts now! They're much healthier and add extra flavor and texture to your favorite recipes. If you are looking for more, check out our post on other keto bread options for buns, bread, muffins, and more!
Our KBosh Keto Crusts Review
When we ordered KBosh keto crusts for the first time, we were impressed by their quick turnaround time. It only took a couple of days for our crusts to arrive in the mail. The first thing we made with them was a chicken quesadilla. The Mexi Zucchini crust is perfect for it! You can grab that recipe in our Keto Pizza Recipe. Our second recipe and now a weekly staple is pizza. We've used every crust imaginable for pizza and love them all equally! Here's what we put on our KBosh pizza.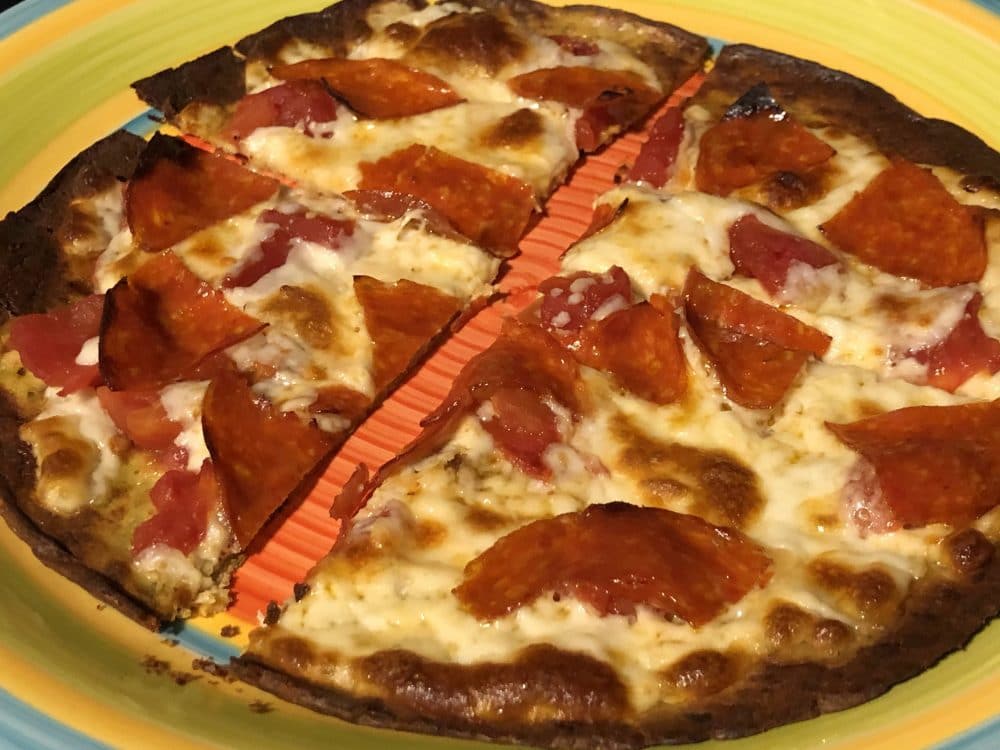 What are KBosh Keto Crusts?
KBosh keto crusts are flat crusts that resemble a round tortilla. But instead of flour, they're made from low-carb ingredients like cauliflower, spinach, zucchini, kale, broccoli, cheese, and spices. One of the benefits of using KBosh keto crusts is that they have extra flavor baked right into the crust. For example, we love the Mexi Zucchini keto crusts because they're made with Mexican spices like cayenne pepper and garlic powder. This adds a delicious kick of flavor to your tacos and quesadillas.
What KBosh products can I choose from?
At the time of writing this, KBosh currently has nine products available for sale on their website. Here's a brief rundown of their products and what you can expect from each one.
Cauliflower: This one is pretty basic. It's loaded with all the nutrients you'd get from cauliflower and offers a mild taste that blends with a wide variety of recipes. This crust is great for pizza and calzones. You can even make keto-friendly lasagna with this crust.
Zucchini: This crust is pretty similar to the cauliflower crust, but the taste is a little different. Like the cauliflower crust, this zucchini crust is full of nutrients and antioxidants. Skip the carb-loaded tortillas and treat yourself to a lighter, healthier lunch.
Italian Spinach: This crust is great for Italian dishes like pizza and calzones. It's packed with flavor and made with Italian spices like basil and garlic powder, with some mozzarella cheese for good measure. You can make fancy Italian appetizers with this crust.
Broccoli: This crust is perfect for vegetable-heavy dishes like quiches and veggie wraps. It's also a great base for a delicious veggie pizza. Like the others, it's low-carb and packed with vitamins and minerals.
Mexi Zucchini: One of our personal favorites. We've made delicious quesadillas with this zucchini wrap that's fortified with cheese and spices. It adds a kick of Mexican flavor to any dish you're preparing.
Kale: In recent years, kale has been hailed as a nutrient-dense superfood. Get more kale in your diet by making pizzas, wraps, quiches, and more with this delicious kale crust.
Dessert Cauliflower: You didn't think we'd forget about dessert, do you? Make your favorite pies and tarts again with this delicious crust that's sweetened with natural monk fruit. You won't even notice the cauliflower.
Chocolate Zucchini: If you've ever tried chocolate zucchini bread, you'll love this crust. You can use it as a base for pies, chocolate cakes, lava cakes or simply eat it by itself as a snack. Yum!
Pumpkin Zucchini: This crust is perfect for autumn and winter. It combines the delicious taste of pumpkin with the health benefits of zucchini. Make a pumpkin pie or a dessert pizza for your guests this holiday season.
What's the final verdict?
We wholeheartedly recommend KBosh crusts! They're low-carb, low-sodium, gluten-free, and made from natural ingredients with no artificial chemicals or preservatives. If anyone tries to tell say you have to cut out bread, wraps, and crusts on keto, tell them to try these!
Check out our post on other keto bread options for buns, bread, muffins and more!