Since being keto, tacos have been off my diet. Every Tuesday used to be taco Tuesday. I don't know why I didn't try a keto taco recipe sooner because tacos are keto-friendly. Meat, cheese… it has a great start to a keto meal. The only hang-up I had was a low-carb tortilla shell but we found a workaround.
This recipe was originally inspired by Wholesome Yum (amazing website and recipes!) but I'm lazy so I cut out a couple of things. Here's the difference:
I do not brown the meat before adding it to the slow cooker
I do not use water for the taco seasoning or simmer the mixture in the frying pan
These might not sound like big differences but it's a lot faster and a lot less mess. I hate doing the dishes! Always have. Just ask my mom and sister. I used to conveniently have to go potty after every meal for an hour (or until the clank of dishes stopped). 
Versatile Keto Taco Recipe
My favorite part of this recipe is there are so many options! We ate this meal 3 nights in a row and had it 3 different ways. The options are endless but here's how we had it:
Pork Rind Nachos – This was a delightful accident! We made the crockpot but then decided to have something different that night. But we started with this as an appetizer!
Keto Taco in a Soft Shell – do you like hard or soft tacos? We prefer soft so find a good low carb tortilla shell-like these from Mission.
Keto Taco Rice Bowl – this is my favorite way to have this dish. We use Nature's Early Choice Cauliflower Rice. It doesn't need to be refrigerated and you can microwave it! EASY!
Keto Taco Soup – this taco crockpot recipe comes out soupy. Even if you drain the diced tomatoes really good, it still has liquid. Put it in a bowl, sprinkle with cheese and sour cream and YUM!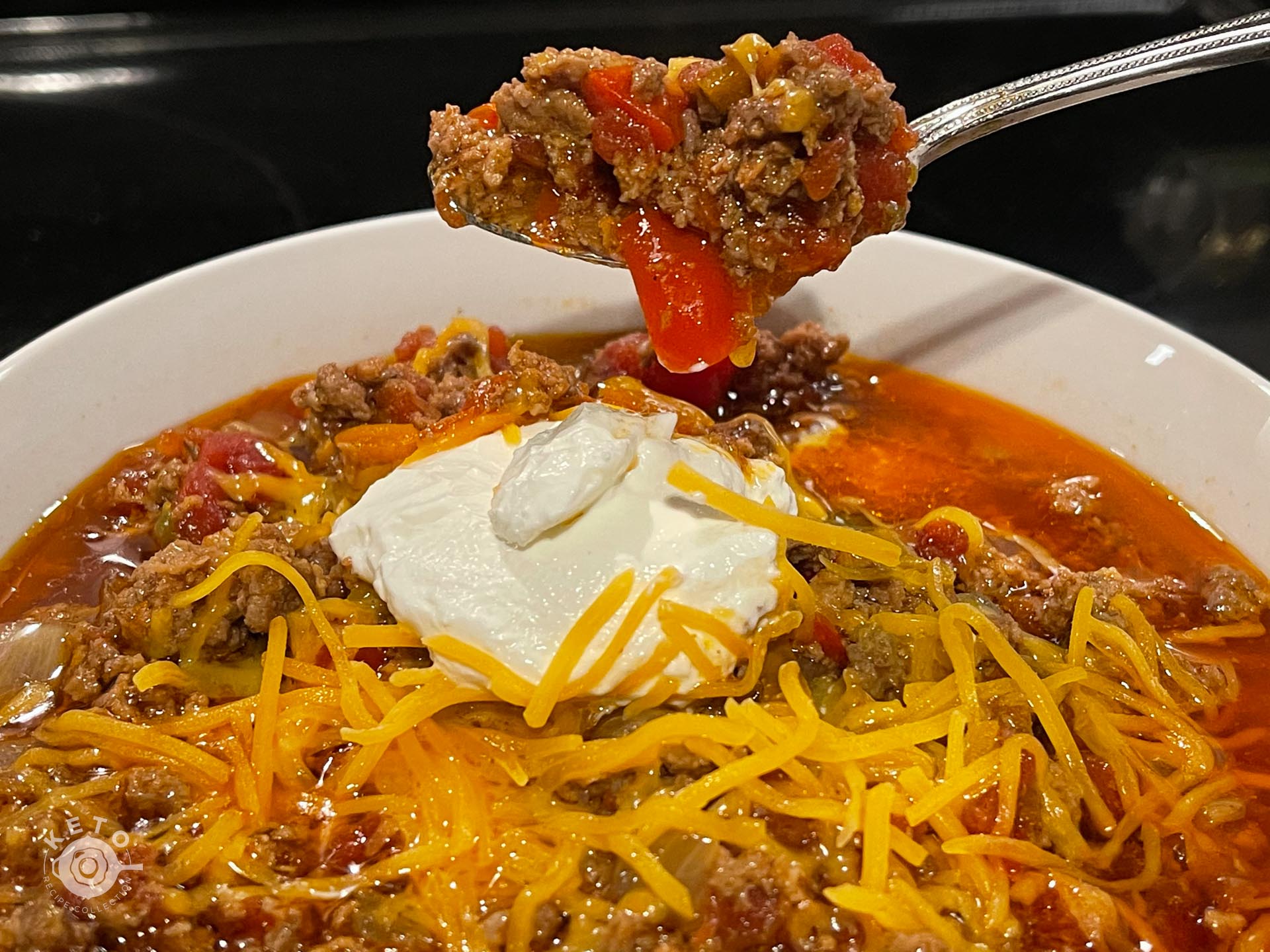 Keto Taco Shell Options
My family loves the low-carb Mission tortilla wraps as keto taco shells. You won't compromise anything on taste or texture! They are between 3-4 net carbs per wrap. And if you want a hard shell, I saw a neat idea where you flip a muffin pan upside down, shape the tortilla around it, and bake to crisp them up. It forms a nice taco bowl.
If you prefer a traditional taco shell, you can purchase these taco stands. Use the tortilla wraps, bake them in the oven for a few minutes and they will crisp up in the right shape!
I like to skip the tortilla all together and have the cauliflower rice.
Taco Soup Ingredients
I love this recipe because I usually have all these items on hand. So simple and nutritious!
Ground Beef
Taco Seasoning
Bell Peppers
Onion
Rotel Mild Diced Tomatoes with Green Chiles
Cheddar Cheese
Expert Tips on Taco Making
This recipe is pretty easy as I mentioned but a few things we do, make it even easier and tastier. I'll list them out below:
Put the burger in the crockpot on high BEFORE you start to prepare the other ingredients. This way the meat starts to cook and crumble a little.
Mix all ingredients well with the burger and then reduce the pot to low.
If you are around, store the crockpot a few times throughout the day. It just helps mix it all together even more.
If you are not around, stir the ingredients and let site for at least 30 minutes before serving.
You can freeze the leftovers for a quick go to meal.
Other Keto Crockpot Meals
Keto Mongolian Beef Crockpot Recipe – can you say yum? This is my favorite keto Chinese dish!
Easy Keto Swedish Meatballs – Crockpot Recipe – just like my mom used to make!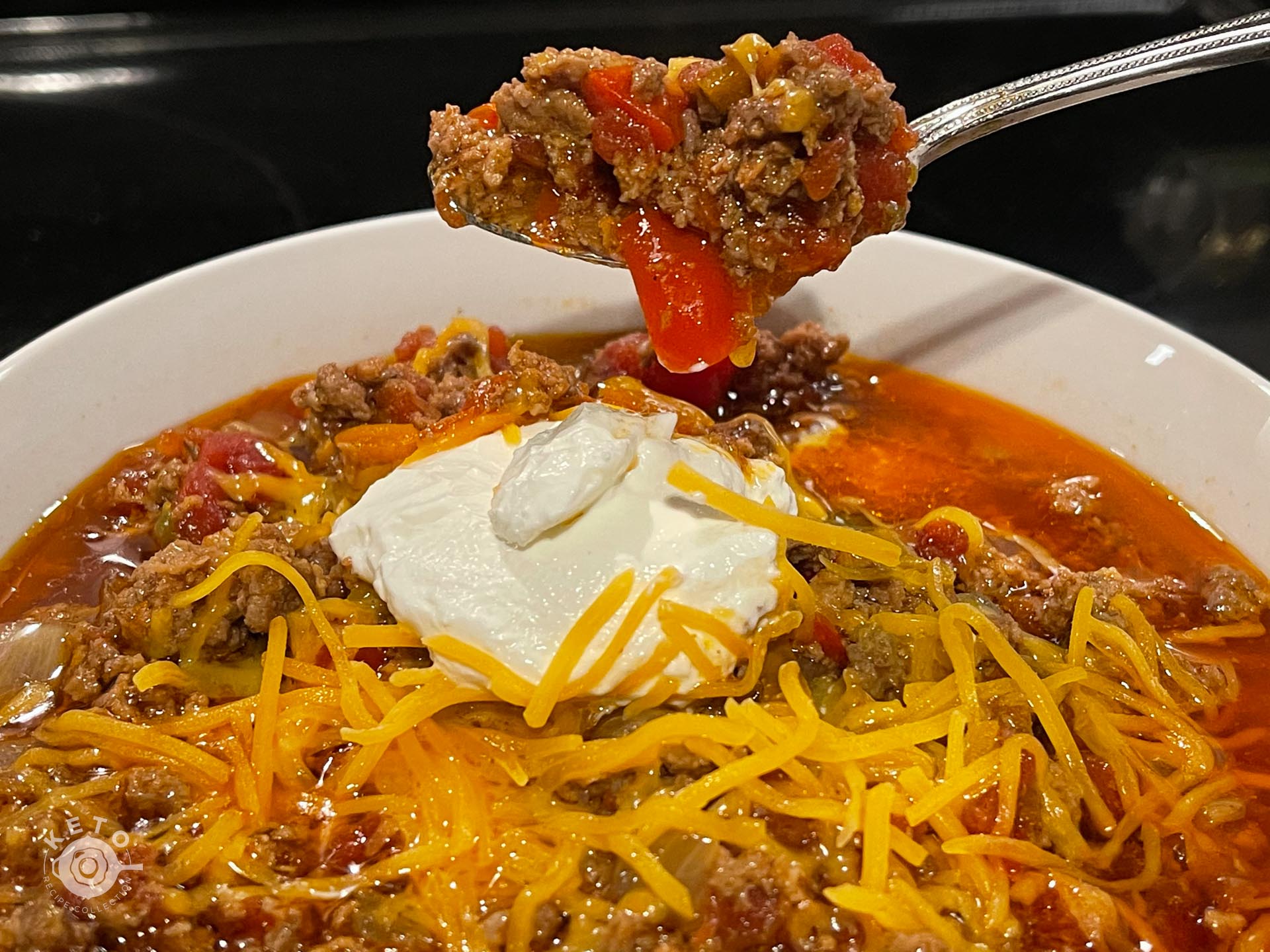 Nutrition
Calories:
393
kcal
|
Carbohydrates:
11
g
|
Protein:
23
g
|
Fat:
27
g
|
Saturated Fat:
12
g
|
Trans Fat:
1
g
|
Cholesterol:
95
mg
|
Sodium:
1047
mg
|
Potassium:
412
mg
|
Fiber:
3
g
|
Sugar:
6
g
|
Vitamin A:
2009
IU
|
Vitamin C:
52
mg
|
Calcium:
127
mg
|
Iron:
3
mg