This keto lasagna recipe is to die for. Seriously. My husband PREFERS keto lasagna versus traditional lasagna and I'd have to agree with him! We were amazed at how much flavor this deli chicken lasagna recipe has!
How do you make keto lasagna?
So what makes it a keto lasagna? Sure, there are low-carb noodle options out there that are pretty good but what we found to be the most delicious is deli chicken for our layers. Yup, deli chicken! I know it's hard to believe but keto deli chicken lasagna tastes just like the traditional version! When you think about it, pasta doesn't have a ton of flavor. It's what you put on it. And so the chicken adds even more taste to it!
You can use any kind of deli chicken for lasagna but I buy oven-roasted chicken. My husband doesn't like spicy food but if it were just me, I'd probably try the buffalo chicken! You'll have to let me know in the comments how yours comes out and what type of chicken you used.
Lasagna Lessons
I've made my share of lasagna and have learned a few tricks along the way. Here are some of my best pro tips for traditional or keto lasagna. If you have your own tips, I'd love to hear them and learn more!
Pro Tip | use the right tools
I typically make lasagna in a big lasagna pan but for this keto chicken lasagna, I use our CorningWare French White 4-Quart Casserole Dish with lid. The deli chicken I use is rounded and fits perfectly for the oval shape of the dish. Easy peasy!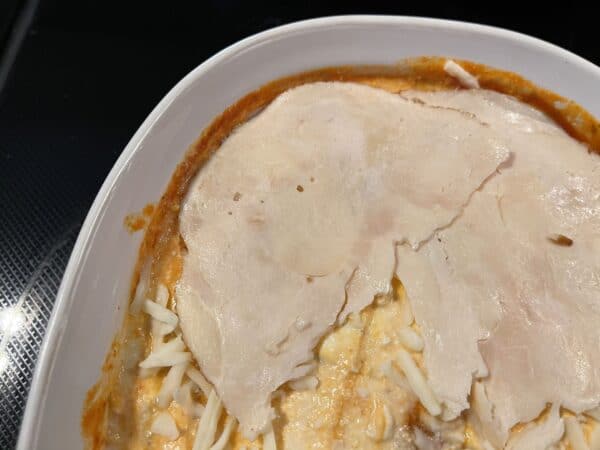 Pro Tip | let it stand
I don't know about you but it's nearly impossible to let my food rest before eating it but if you can make yourself wait 10-15 minutes before diving into this recipe, the slices will be firmer. Or if you cook it the day before and then just heat it through in the oven the day you are going to have it as a meal it will be firm and keep its shape. Good luck resisting it until then though!
Pro Tip | freeze what you don't eat
There are just two of us and keto casseroles make a lot. My husband may have seconds but if I do, I'm in trouble the next day. Too much of a good thing… I usually serve up what we are going to eat and then divide up the rest into servings for later. Make sure it is completely cooled, wrap in tinfoil, and then place in a Ziploc bag or these perfect freezer containers from Rubbermaid. 
As I finish up this post, Bill is heating up the remaining servings (sometimes we just eat all of it as leftovers instead of freezing it because it's THAT GOOD) of our keto lasagna and I'm a bit sad and grateful. I've never adopted a "diet" or "healthy lifestyle" that I felt I could live long term with but the keto diet has made it possible. There isn't anything I need to sacrifice with keto! And the more recipes I make, the easier it gets!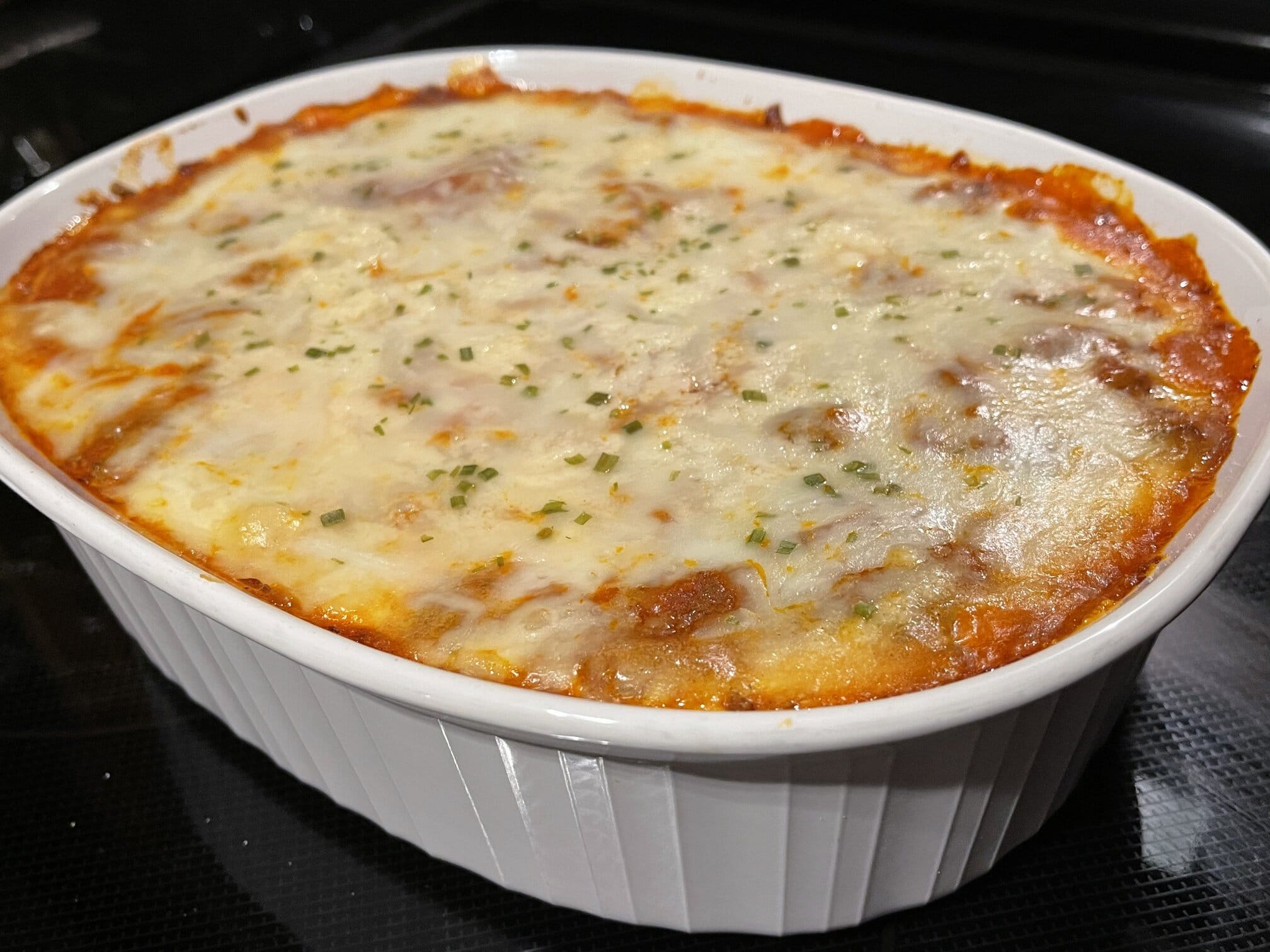 Nutrition
Calories:
457
kcal
|
Carbohydrates:
9
g
|
Protein:
33
g
|
Fat:
31
g
|
Saturated Fat:
14
g
|
Trans Fat:
1
g
|
Cholesterol:
130
mg
|
Sodium:
1019
mg
|
Potassium:
424
mg
|
Fiber:
1
g
|
Sugar:
5
g
|
Vitamin A:
466
IU
|
Vitamin C:
1
mg
|
Calcium:
277
mg
|
Iron:
2
mg
Are you looking for even more recipes that substitute carbs? You'll love Keto Cheesy Cauliflower Hash Browns and our Fully Loaded Cheesy Radishes! They substitute potatoes for delicious side dishes you are going to love!