It seems keto breakfast recipes are hard to come by for some people because they are looking for something that doesn't involve eggs. We LOVE eggs though so never have a problem. One of our favorite go-to's is a keto omelet. There are so many options and they are a great way to get a little fiber in your diet.
What do you put in a keto omelet (Is it omelet or omelette? I guess it can go either way)?
The keto omelet pictured below has ham, broccoli, red pepper, onion, and mozzarella.
Here are some other omelet filling options:
Bacon
Sausage
Cream cheese
Jalapeño peppers
Mushrooms
Spinach
Salsa
Olives
Tips for making an easy omelet
In my 20's I had a LOT of jobs. I mean a LOT. I was even an egg picker at a chicken farm and worked operating a slasher in the woods for my dad. One of the jobs I had was as an omelet chef at the Marriott. So I learned a thing or two about making the perfect omelet. And I now pass the omelet chef secrets on to you:
Use a batter spatula to lift the edges of the omelet and let the liquid part drain under the omelet to cook a consistent omelet.
Learn how to flip an omelet without using a spatula. Make sure your pan is slippery enough with butter, oil or spray so it slides easy. Then inch the omelet toward the lip of the pan opposite side of the handle. When ready flick your wrist forward to flip.
Add your cheese to the omelet as soon as you flip the omelet to the other side.
Remove the omelet and fold in half within a minute of adding the cheese to avoid overcooking.
Other keto breakfast ideas
Spinach and Feta Egg Cups – this is one of our absolute favorite breakfasts to make. I usually request (Bill does a lot of the cooking here because I'm the computer girl) this about 5 times a week.
Broccoli Bites – We used to make these in muffin tins but now we just whip them up as omelets. If you work out of the house, you will want to check out the recipe. You can make a bunch ahead of time and eat them all week.
Breakfast Cheeseburger Wrapped in Lettuce

–

One of my all-time favorite breakfast recipes and it's perfect for a hangover (if you are looking for a cure).

French Toast – Yup! French Toast on the keto diet! It's SOOO good. I'll be adding that simple recipe soon!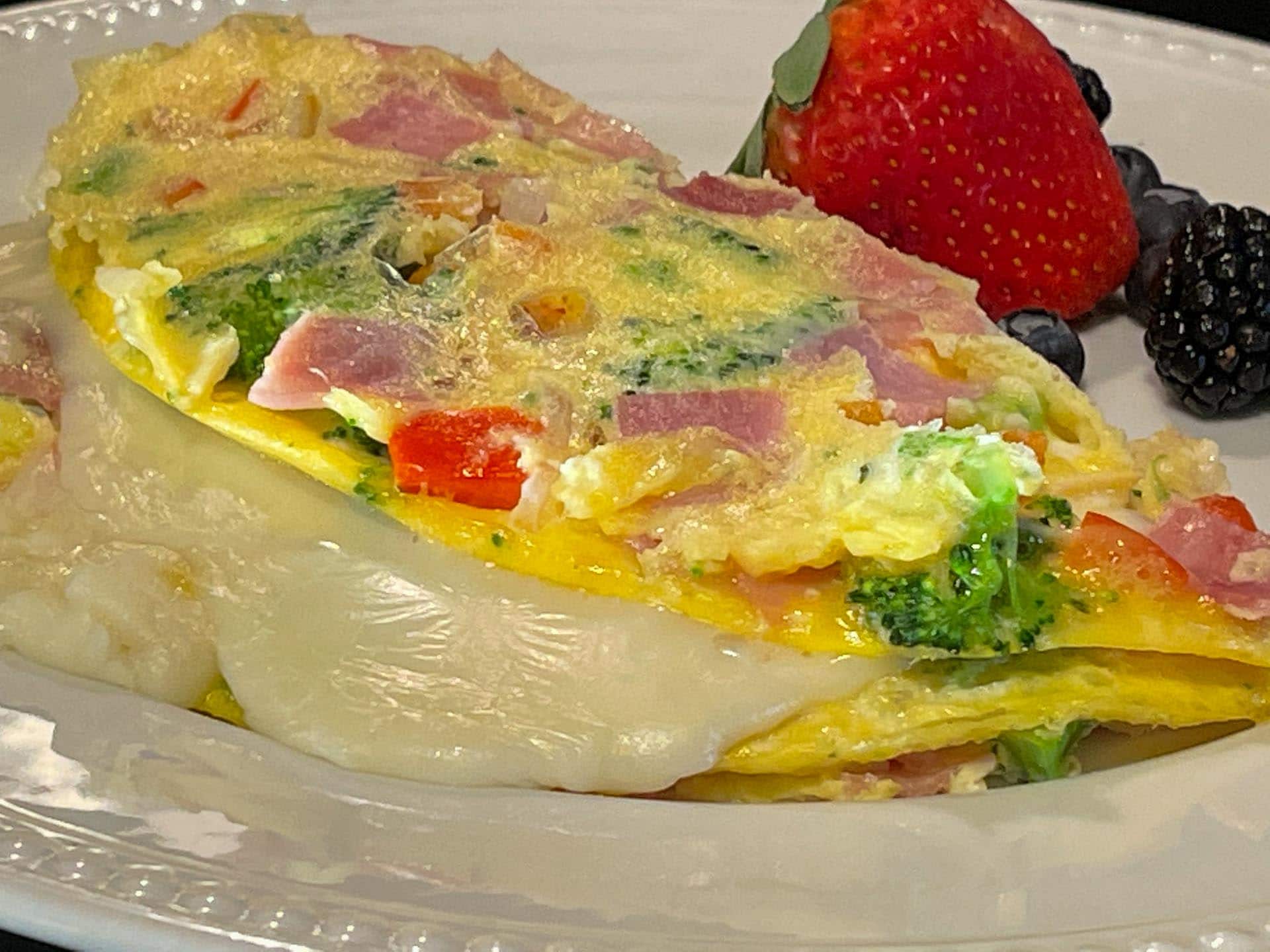 Notes
I tend to use only the frying pan when flipping my omelet over. To do this takes practice but is so easy once you master it. Start to shimmy the omelet to the side away from the handle. Once it's partway up flick your wrist to flip it into the air and catch. You may want to practice over the sink the first few times! 
Nutrition
Calories:
251
kcal
|
Carbohydrates:
4
g
|
Protein:
21
g
|
Fat:
17
g
|
Saturated Fat:
7
g
|
Trans Fat:
1
g
|
Cholesterol:
283
mg
|
Sodium:
592
mg
|
Potassium:
296
mg
|
Fiber:
1
g
|
Sugar:
2
g
|
Vitamin A:
916
IU
|
Vitamin C:
32
mg
|
Calcium:
179
mg
|
Iron:
2
mg