Looking for a Philly Cheesesteak keto style? Look no more! This is our favorite go-to when we get the craving. If you are looking for a keto Philly Cheesesteak casserole this can easily be turned into that too! Just forget the bun and put the cheese on the top at the end. Easy peasy! This meal is versatile! Make the steak ahead and marinate for as long as you want. When you are ready, just follow the directions, throw the ingredients in the oven for a quick casserole or saute it up in the pan. Then either plate it up or put it on a keto-friendly hot dog bun for a classic keto steak and cheese.
Keto Steak Ideas
My husband's favorite part about keto is all the steak we get to eat! If you haven't tried any of our other steak meals, you need to! Here are our top favorites
Ginger and Soy Steak – O.M.G it's so good! Make sure you put the juices in a dish for dipping after!
Garlic and Thyme Steak – Juicy and loaded with flavor!
Panfried Steak with Green Onion and Garlick Butter. My favorite part about this recipe is creating your own garlic butter. I know that sounds silly but it makes me feel fancy and is such an easy thing to do. I can't believe I'd never done it before.
Is Steak and Cheese Keto?
This Keto Steak and Cheese is high in carbs. Per serving it measures 19 grams of carbs but only 11 net carbs. We have this ON OCCASION. Where do the carbs come from? The balsamic vinegar is loaded with carbs! The original recipe we started with used twice as much marinade ingredients so we scaled way back. Some other options for marinade could be Worcestershire sauce and soy sauce but we love this one so much we keep it as is. If you have a better marinade option, we'd love to hear it!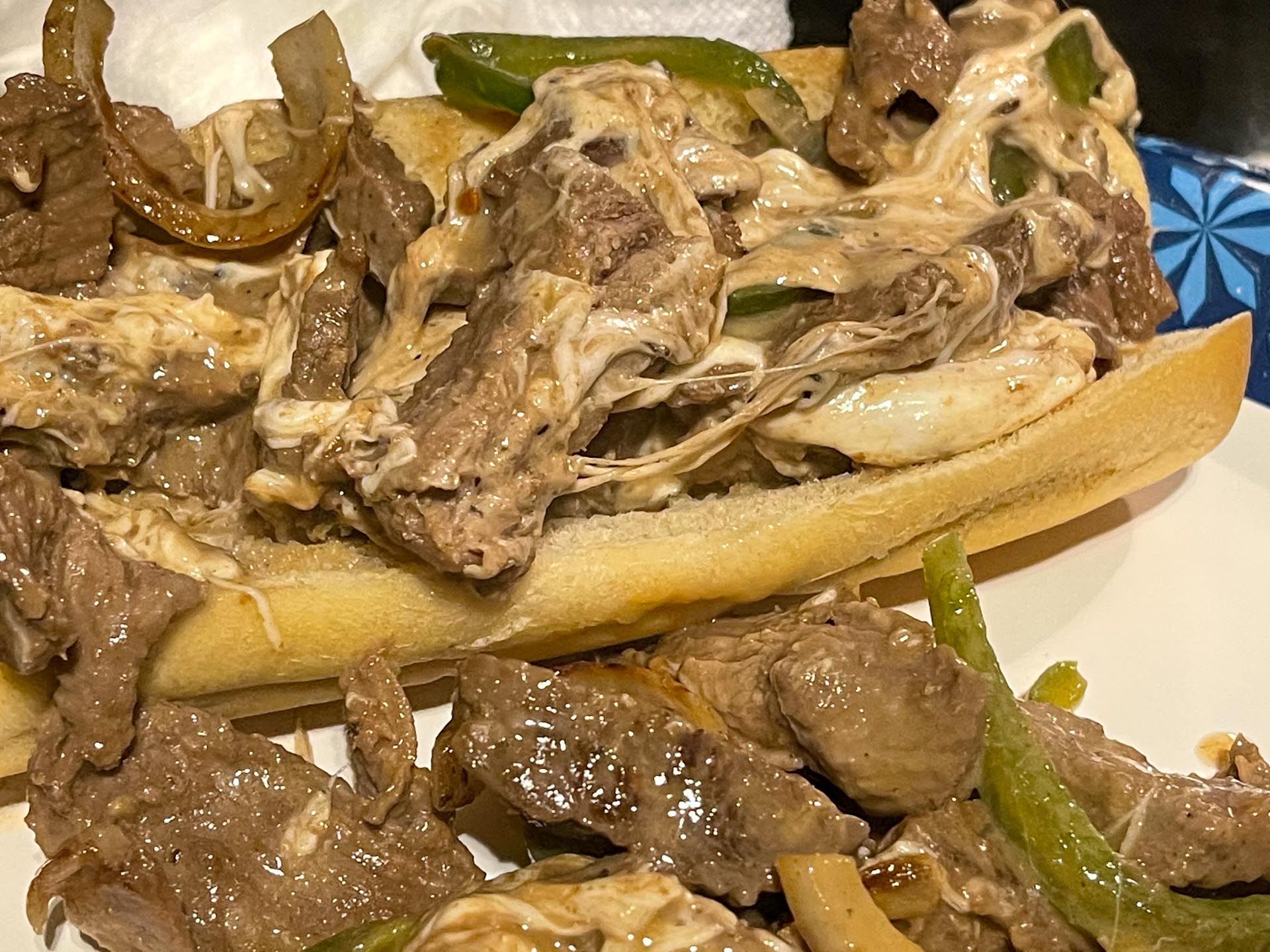 Video
Notes
This meal can be served as a Keto Philly Cheesesteak casserole or on a keto-friendly bun.
Nutrition
Calories:
863
kcal
|
Carbohydrates:
19
g
|
Protein:
83
g
|
Fat:
52
g
|
Saturated Fat:
22
g
|
Trans Fat:
1
g
|
Cholesterol:
228
mg
|
Sodium:
1116
mg
|
Potassium:
991
mg
|
Fiber:
8
g
|
Sugar:
7
g
|
Vitamin A:
877
IU
|
Vitamin C:
25
mg
|
Calcium:
654
mg
|
Iron:
5
mg
What did you think? Was it the best you've ever had?