One of our favorite things about keto is the steak we get to eat! Keto Ginger and Soy Sauce Steak is one of our favorite keto steak recipes and is at the top of the list. It's really quick to make, loaded with flavors and tender.
What Type of Steak Should You Use
The marinade for this steak has soy sauce which is great for the marinade so I honestly feel you could use just about any type of steak you want. We've used both skirt and flank steak that makes it a little chewier but still flavorful. We've used filet mignon which is TO. DIE. FOR. but costly. Our favorite meat is New York Sirloin. It's well-marbled, full of flavor, and easy to cook. Even cooked well done, a NY sirloin is tasty. You can't go wrong.
What Sides Go Well With Keto Ginger and Soy Sauce Steak
What keto sides go well with this steak? Any! Our favorites are the Keto Cheesy Cauliflower Hash Browns and the Parmesan Encrusted Zucchini Wedges. Both of these keto sides compliment the flavors of the steak without overpowering it.
Other Keto Steak Recipes To Try
As we said before, we LOVE steak and were thrilled to be able to have it all the time with keto. Here are a couple of keto steak recipes that we love and suggest.
Panfried Steak with Green Onion and Garlick Butter. My favorite part about this recipe is creating your own garlic butter. I know that sounds silly but it makes me feel fancy and is such an easy thing to do. I can't believe I'd never done it before.
Garlic and Thyme Steak. This combination creates a great flavor and a marinade to dip in!
Tips For Cooking The Perfect Steak
Bringing the steak to room temperature (about 20 minutes should do it) before you start cooking.
Let the steak rest for 5-10 minutes before serving it. It locks in the juices so every bite melts in your mouth!
Some say to salt the meat just before cooking. I don't do this because I want to keep my salt intake down (especially with this recipe that already has low sodium soy sauce).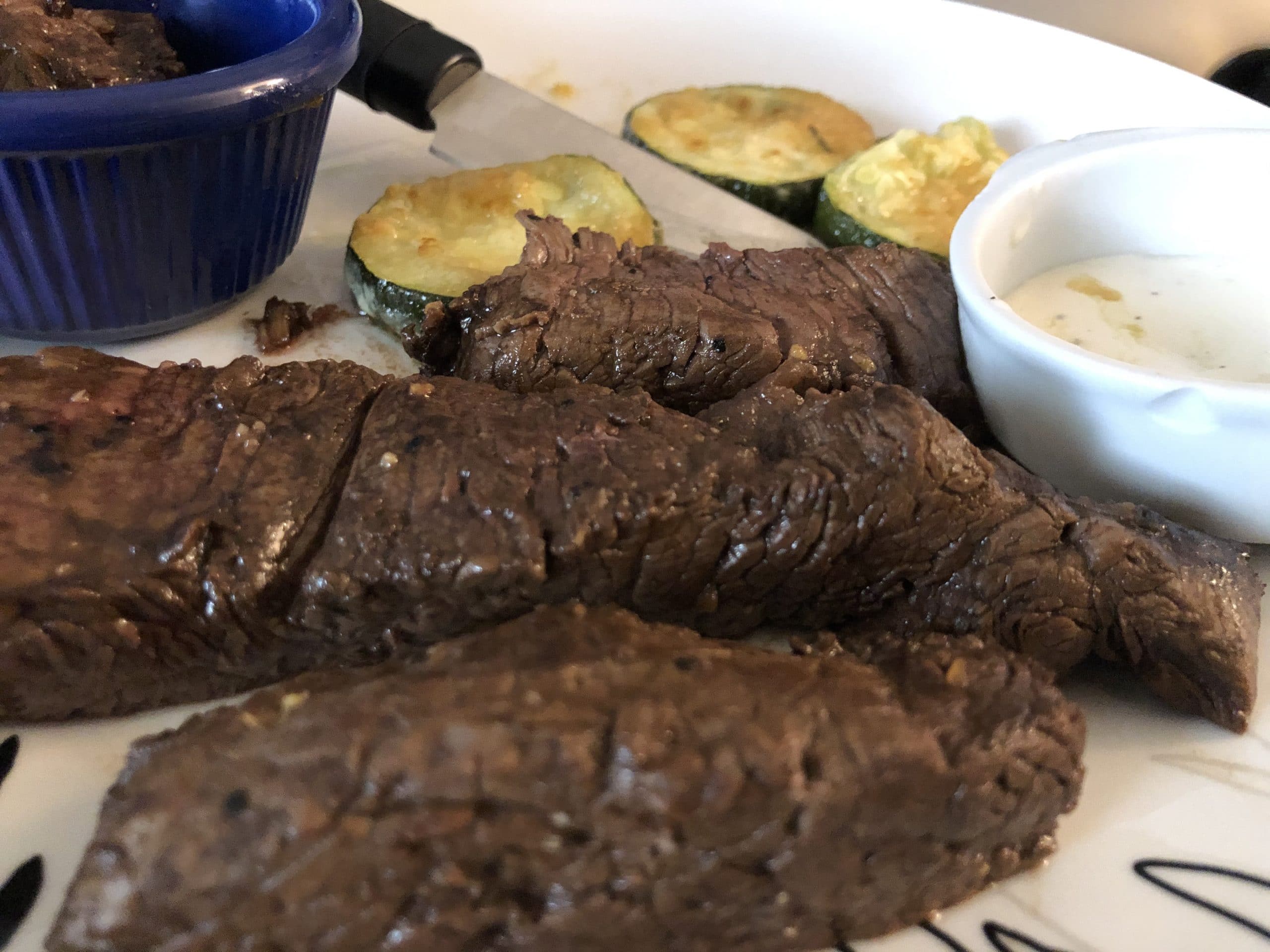 Notes
Medium rare 135° F, Medium 145° F, Medium Well 150° F, Well Done 160° F
Nutrition
Calories:
552.3
kcal
|
Carbohydrates:
3.7
g
|
Protein:
57.6
g
|
Fat:
33.1
g
|
Saturated Fat:
7.3
g
|
Cholesterol:
155.6
mg
|
Sodium:
1010.4
mg
|
Potassium:
935
mg
|
Fiber:
0.8
g
|
Sugar:
0.6
g
|
Vitamin C:
0.7
mg
|
Calcium:
88.2
mg
|
Iron:
5.6
mg