My family grew up on ham, cream cheese, and pickle roll-ups. Every holiday, my mom would make layers and layers of these on a serving tray. And they were always the first thing to go! Now that our family is bigger and we are all starting our own family traditions, this is one that has been carried on.
These also make the perfect keto party food. They are easy to make, don't require extensive cooking skills, and are easy to transport. The best part about them is you can make them the day before so you aren't scrambling last minute.
Another favorite snack food is our Keto Pizza Bite Fat Bombs. They check all the boxes and are sure to be a hit with the kids (or anyone)!
Tips For Making Ham and Cream Cheese Pickle Roll-Ups
The pictures here are using smaller cut up pickles. I like these because they are extra crispy BUT the easiest way to wrap and cut these is to use large pickles.
Make sure to pat dry the pickles.
Make sure to pat dry the ham slices. DAK ham is the best ham to use.
Let the cream cheese set to room temperature for 10-15 minutes to make it easy to spread.
Make sure to cut against where the ham closes up so they don't unravel.
Use parchment paper between the layers.
Refrigerate at least 30 minutes before serving.
Great Keto Party Food
Ham and Cream Cheese pickle rollups are the perfect keto party food or keto appetizer. They are bite-sized and go a long way. PLUS, your children can help make them as you prep for the event. Some of my favorite memories are of party preparation with my mom. You usually end up with a lot of end pieces that don't "make the cut"… yummy!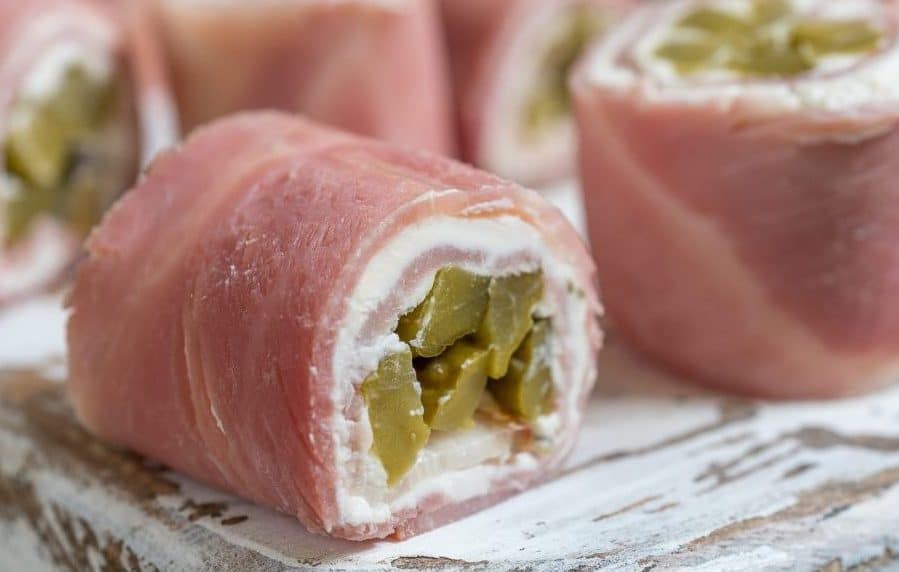 Nutrition
Calories:
251
kcal
|
Carbohydrates:
7
g
|
Protein:
15
g
|
Fat:
18
g
|
Saturated Fat:
8
g
|
Cholesterol:
63
mg
|
Sodium:
2813
mg
|
Potassium:
413
mg
|
Fiber:
3
g
|
Sugar:
4
g
|
Vitamin A:
773
IU
|
Vitamin C:
2
mg
|
Calcium:
124
mg
|
Iron:
1
mg