Keto Cabbage and Bacon is one of our favorite sides! It's full of fat and flavor and super easy to make. We pick this dish when we are low on fat for the day and when we just want to splurge! With 4 simple ingredients you wouldn't think it would taste as good as it does but oh man, is it good! Cooking the cabbage makes it sweeter and the bacon and onion give it the right texture.
How to make Keto Cabbage and Bacon the easy way?
This keto side is one of the easiest ones we make! We often will make everything from scratch to save a little money but life is busy. We are both self-employed, working for Here 2 Help Services (my company) and sometimes if we can save 10 minutes, we do! This is pretty easy as it is. But here are a few corners you can cut.
If you don't want to shred your own cabbage, buy it pre-shredded.
Use precooked bacon whether it is bought that way or you cook a lot of bacon ahead.
Buy already chopped onions from the produce section at the grocer.
Keto Ingredients
Keto can be tricky unless you understand how much of an item you can have. Onion is not a keto-friendly food but it's fine if it's used sparingly. Red cabbage is sweeter than white but is still a good source of nutrients. Bacon of course is perfect for keto! Sometimes when I make this meal, I use less cabbage to lower the number of overall carbs. But other times I use the full amount because it's so filling and then I won't snack. This is a good article about nutrition in cabbage if you are interested in knowing more. Like my mother always says, "Everything in moderation."
What goes well with Keto Cabbage and Bacon?
This dish is the perfect side! Our two favorite main dishes to have this with are:
Green Onion Garlic Butter Steak. The butter in both dishes complements the other. It's all very decadent.
Spicy Mozzarella Stuffed Chicken is another favorite to really bring out both flavors. The cabbage and bacon are not spicy so it sort of helps clean the pallette so both dishes are bursting with flavor!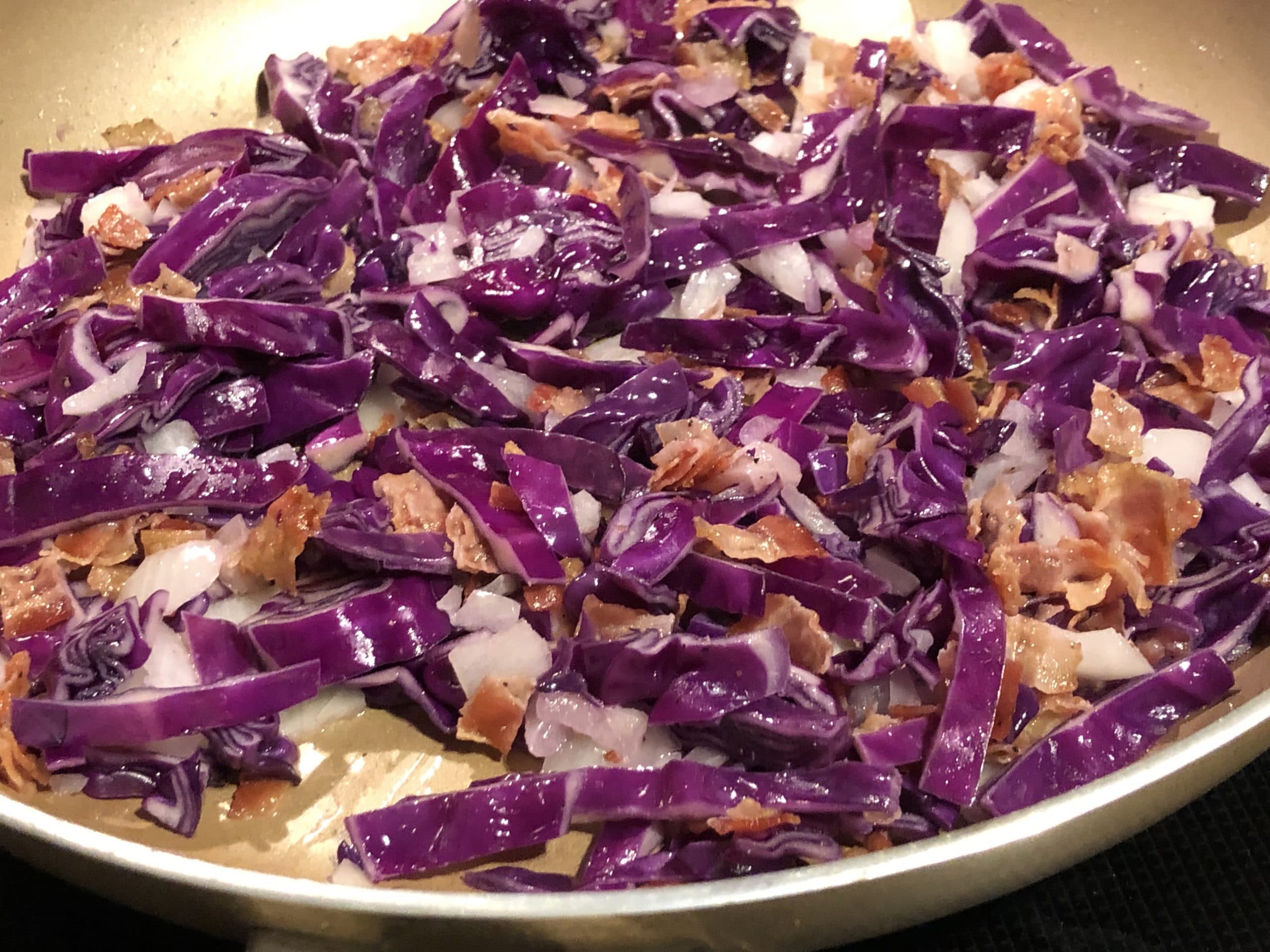 Nutrition
Calories:
118.2
kcal
|
Carbohydrates:
8.8
g
|
Protein:
7.3
g
|
Fat:
6.2
g
|
Saturated Fat:
2.3
g
|
Cholesterol:
17.3
mg
|
Sodium:
304.7
mg
|
Potassium:
278.3
mg
|
Fiber:
2.4
g
|
Sugar:
4.7
g
|
Vitamin A:
68.6
IU
|
Vitamin C:
28.6
mg
|
Calcium:
54.5
mg
|
Iron:
0.5
mg
I'd love to hear what you thought and what you paired this side dish with! It's probably in my top 5 favorites since starting keto if that's even possible to have 5 favorites. There are SO MANY favorite dishes on keto it's hard to choose.
If you can't make it now, pin it for later!