Enjoy a hot, protein-packed meal with this keto stuffed bell pepper recipe that combines fresh vegetables, seasoned ground beef, and melted cheese for a delicious dinner that pairs well with cool drinks and a keto-friendly salad. Bright green peppers give this dish a pop of color and highlight this healthy ingredient.
Most of this recipe uses ingredients that you probably already have in your fridge or pantry. If you're running late and need a quick meal, stuff the peppers, throw them in the oven, and come back in 20 minutes to serve dinner. This hearty dish also makes a delicious main course for sit-down meals.
What Makes This Keto Stuffed Pepper Recipe Unique?
Since the keto diet restricts your options, you can get tired of eating the same ingredients every day. This keto bell pepper recipe is customizable so you can experience different tastes, textures and flavors. Plus, this recipe is a classic family dish, so you can enjoy a hearty dinner with friends or relatives without needing a keto alternative.
This recipe is unique because it uses mozzarella cheese, Bolognese sauce and Italian seasonings to give your stuffed peppers an Italian twist. Garlic, onions and olive oil brings out the flavors of the gooey, savory cheese and seasoned ground beef. If you're concerned about presentation, bell peppers add a natural pop of color.
Are Bell Peppers Keto?
Bell peppers are a popular keto food because they're packed with nutrients, including potassium and Vitamin C, but have only a few carbs. Green bell peppers have the fewest carbs, making them popular for keto dishes like this stuffed pepper recipe. Yellow and red bell peppers are still keto-friendly, but they have a few extra carbohydrates.
Their crunchy texture, light sweet taste and versatility make green bell peppers a common ingredient in keto dishes. Once you've bought the ingredients and made your dish, look up other bell pepper and ground beef recipes to get the most out of your fresh peppers and juicy ground beef.
How Do You Customize this Keto Recipe?
If you want a different texture or flavor, substitute the ground beef with ground turkey, chicken or sausage. Experiment with different cheeses and sauces to make your own family recipe. For a spicy kick, replace the Italian seasoning with Mexican seasoning.
To make this dish vegetarian-friendly, substitute the ground beef with plant-based meat, like a bean or soy product. You could also stuff the peppers with a keto filler, like cauliflower rice. Use dairy-free cheese if you're making a vegan dish, or skip the cheese altogether.
Other fillings for stuffed peppers include mushrooms, bean-less chili, alfredo sauce, meatballs and anything else that you have in your fridge. Make dinner exciting by inviting everyone to stuff their own peppers with their favorite ingredients.
What Do You Serve with Keto Stuffed Bell Peppers?
Hot, hearty dishes, like low carb stuffed peppers, pair well with cool side dishes that cleanse your palate and don't make you feel too heavy after eating. Keto asparagus salad and keto coleslaw add a refreshing taste to the meal.
Simple vegetable dishes, like roasted broccoli with parmesan lemon butter sauce, add nutrients and more savory flavors to your meal. If you're trying to cut back, load up on lighter side dishes while you enjoy the main course. Plus, these recipes offer an alternative for vegan or vegetarian guests. Check out a keto bread recipe for a light yet filling side dish that your guests can use to mop up the sauce and seasonings.
For dessert, choose a dish, like our favorite, chocolate covered almond butter cheesecake bites. After a hot meal, your guests will prefer a light, cold treat that pairs well with coffee or tea.
How Do You Store this Dish?
This recipe contains perishable ingredients, including beef and dairy, so store leftovers in the fridge as quickly as possible. Keep the leftovers in a sealed container, and eat your stuffed bell peppers within a week to maintain freshness.
To reheat leftovers, heat the oven to 400°F, then stick the dish in the oven for ten minutes. You could also use a microwave, but the peppers might come out soggy instead of hot and crisp. Sprinkle more cheese on top to add fresh ingredients.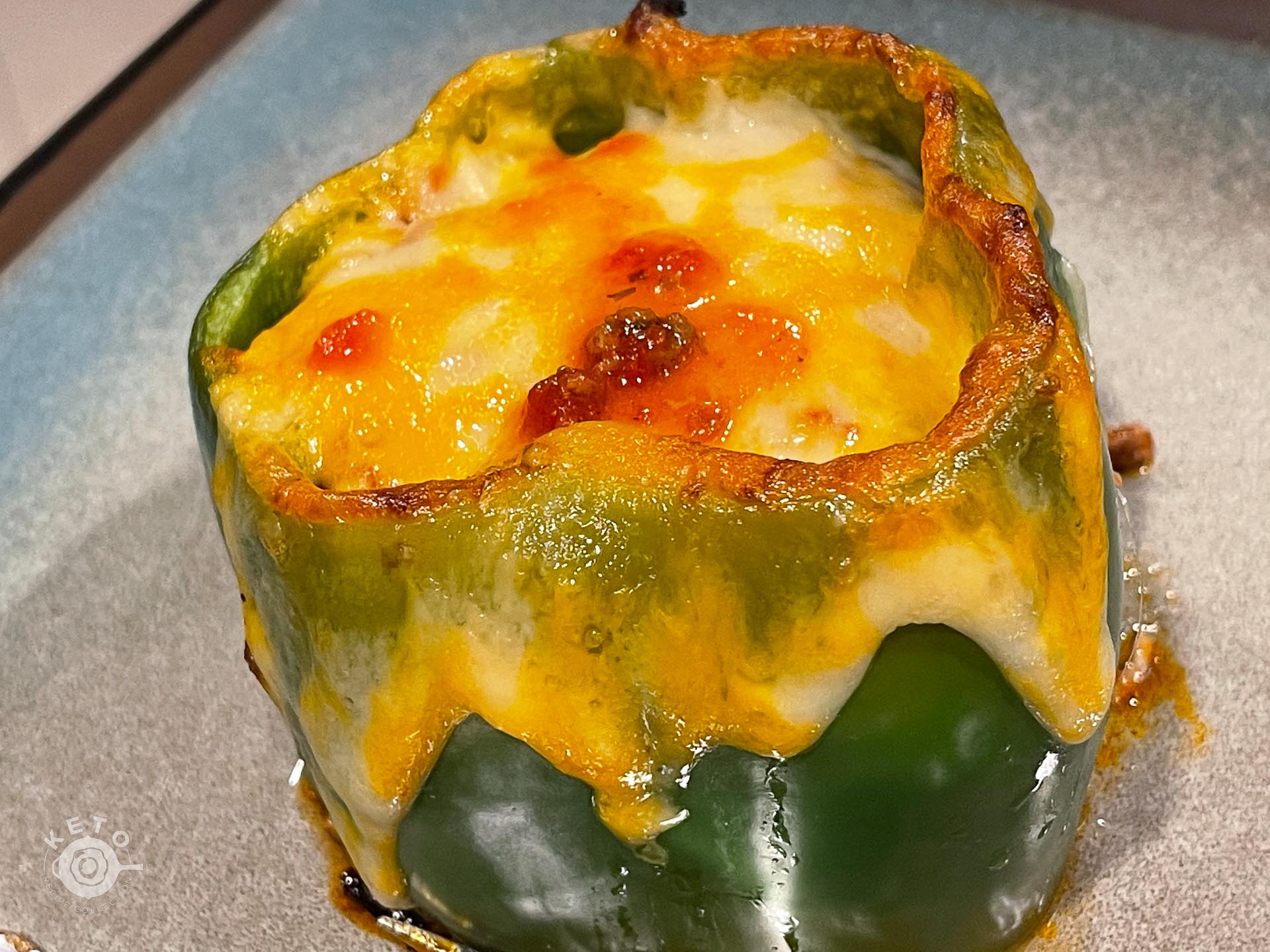 Nutrition
Calories:
733
kcal
|
Carbohydrates:
15
g
|
Protein:
41
g
|
Fat:
61
g
|
Saturated Fat:
22
g
|
Polyunsaturated Fat:
2
g
|
Monounsaturated Fat:
21
g
|
Trans Fat:
2
g
|
Cholesterol:
161
mg
|
Sodium:
786
mg
|
Potassium:
782
mg
|
Fiber:
3
g
|
Sugar:
5
g
|
Vitamin A:
1126
IU
|
Vitamin C:
133
mg
|
Calcium:
350
mg
|
Iron:
4
mg