As I write this keto cocktail sauce recipe post, I'm actually eating shrimp cocktail. My husband just brought it in and I've got to tell you, it's awesome! Our cat goes wild the second she smells the shrimp so I'm trying to write, eat my shrimp, and ward her off all at the same time. It looks like a circus.
Is Cocktail Sauce Keto?
Store-bought cocktail sauce is NOT keto. I was blown away when we searched for a low carb cocktail sauce and realized they don't really exist.
Who would have thought that traditional cocktail sauce would have so many carbs?!? Shrimp is very low carb, at .2 grams per 100 grams of shrimp and it's a great source of protein. But it always comes down to what you are dipping it in.
Keto Shrimp Cocktail Solutions While Out
Shrimp Cocktail at a restaurant is a definite no-no when you are living the keto lifestyle. The cocktail sauce is usually bought in bulk and loaded with carbs. But if you love ordering this appetizer as much as I do, you won't want to miss out. It's torture for me when I watch Bill eat what he wants (now that he is maintaining) so I know how it feels.  Here are 2 ways I handle this situation to stay keto:
Eat them plain with a little bit of salt and pepper and on the very last one use a small amount of cocktail sauce.
Bring this homemade version of keto cocktail sauce in your purse in a little container. These containers work great for this.
I know number 2 might be a little uncomfortable for some people but nowadays people have so many dietary requirements that it seems completely normal. And this cocktail sauce is better than the store-bought kind so it's totally worth it.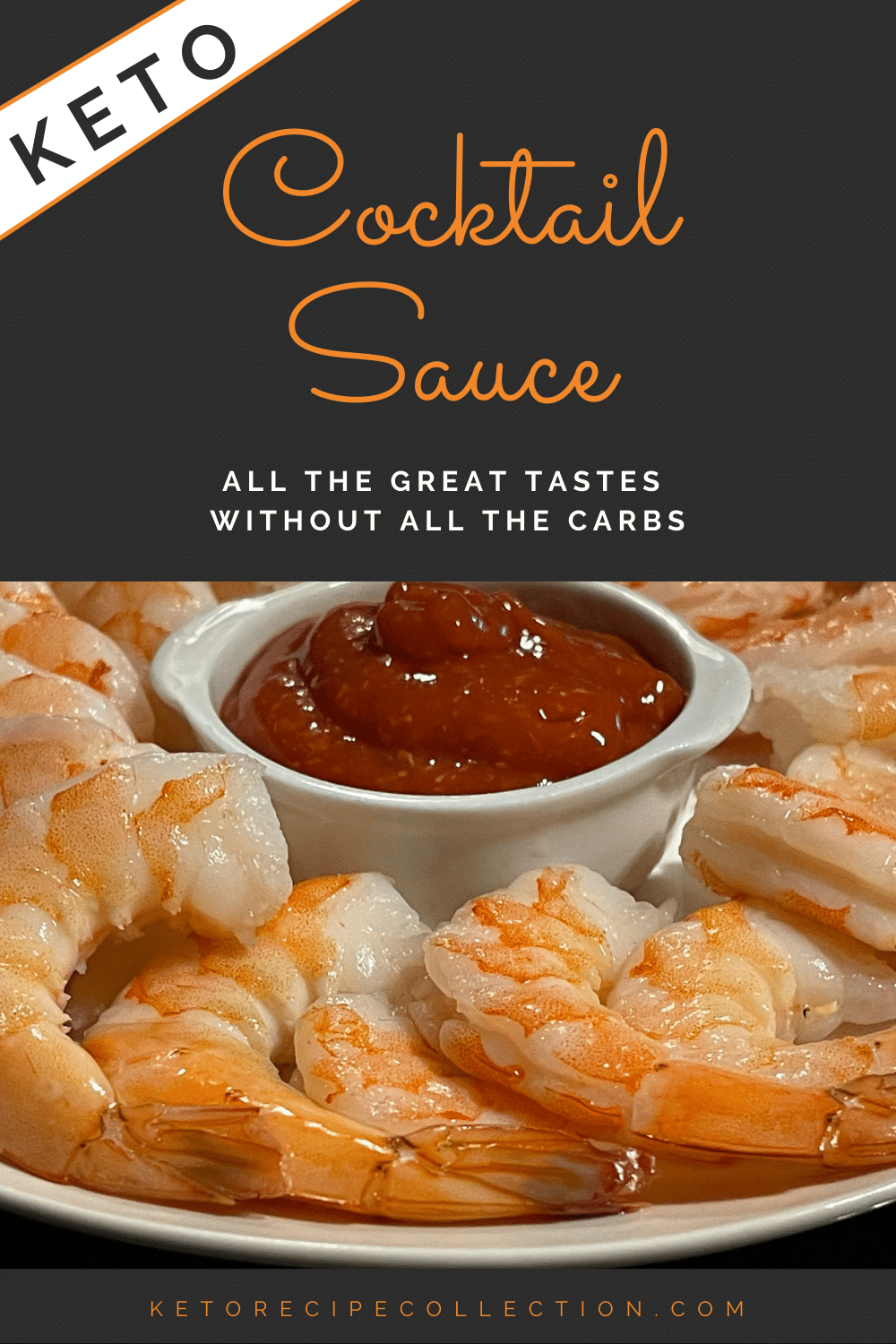 Other Keto Snacks & Appetizers
Shrimp cocktail is such an easy party food or as an appetizer. You can prepare it all ahead of time and just take it out when the guests arrive! Some other recipes on our site you could serve at a party, have as a keto snack or appetizer are:
Air Fryer Crab Cakes – if you are looking for more seafood options, these are a great go-to! Make them up ahead of time and then use the air fryer OR bake them in the oven to make a whole bunch at a time.
Ham and Cream Cheese Pickle Roll-Ups – my family's #1 appetizer at family gatherings. Holidays, parties, any day of the week, these are my favorite.
Keto Buffalo Chicken Eggs – Make them ahead and when you want a snack, just pluck one in your mouth. Be careful though. They are so yummy you will want to make a bunch!
What Makes Cocktail Sauce, Keto Style So Good?
I think what makes it so good is that it's all fresh and the satisfaction of knowing I just saved a butt load of carbs in my diet. I feel like I cheated and am completely satisfied. Another part of what makes it so good is the horseradish. I love spicy and this recipe has just the right amount of that! If you like things a little less spicy, make it with less.
What Else?
This recipe was originally created by Healthy Recipes Blogs. They make it for 4 servings and I do it for 2 since there is just 2 of us. Even with 2 servings it makes a LOT. My husband often is the one that whips it up for us and he puts all of it out to serve but you really could hold half of this back and see if you actually need it. You probably don't and then can reduce the amount of carb intake even more. But you decide and then come on back here and tell me what you think!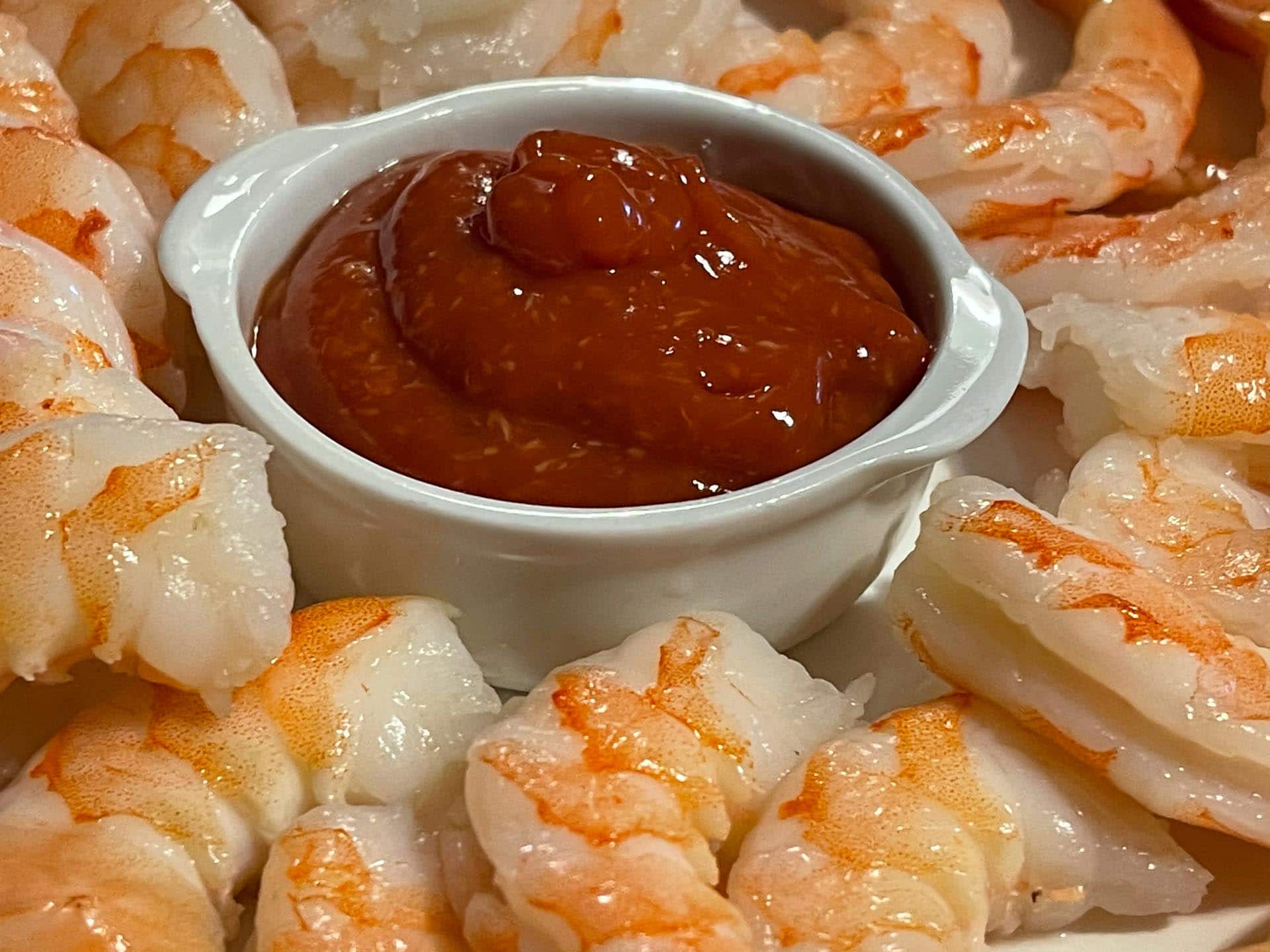 Nutrition
Calories:
21
kcal
|
Carbohydrates:
2
g
|
Protein:
1
g
|
Fat:
1
g
|
Saturated Fat:
1
g
|
Sodium:
411
mg
|
Sugar:
2
g
|
Vitamin C:
1
mg